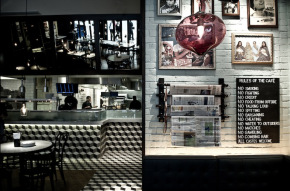 I was brought up in Leicester. So you can imagine my shock when I went to India, and realised that Indian food was nothing like the 'indians' of my childhood.
No luminous, heavy sauces and surprisingly few meaty curries. The food wasn't one-dimensionally hot and spicy, but complex spiciness – fruity or delicate, or herbal or eye-watering chilli heat.
Dishoom prides itself on being London's "first Bombay cafe" – and if that means that it serves food like you're in India rather than a loose English interpretation of Indian food, then it has definitely got something of a claim.
I started off with a lamb tikka roomali roll which was a whole host of lovely, light flavours all wrapped up in a roti. My sister (somewhat of a curry connoisseur) went for the Ruby Murray - the curry of the day - which was chicken in spicy tomato curry sauce, all cooked behind the counter.
Dishoom is in Covent Garden, and it's a very cool space on a street otherwise overrun with chains: open filament lights dangling from the ceiling, fresh brick walls and collages of Bollywood stills.
The breakfasts look phenomenal – from bacon naan rolls to fruit roomali and Bombay omelettes it's enough to almost want a hangover for the opportunity of going out for breakfast to get fixed.
Having given it quite a lot of thought, I can honestly conclude that this is one of the best Indians I've ever had – a huge, and well considered claim.
12, Upper St Martin's Lane
London
WC2H 9FB
http://dishoom.com; 020 7420 9320