French Bagel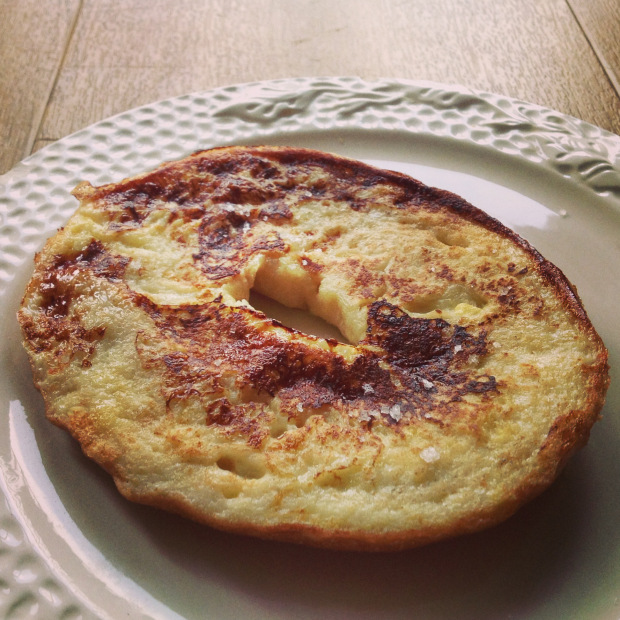 This is a twist on a classic. 
French Toast - or eggy bread - but with a bagel rather than toast. Radical!
I makes a great brunch. So I'm posting this now as a bit of weekend inspiration.
Would you believe it, I don't think I ate a bagel until I was about 15. Now I'm in love with the dense, doughy rings. If I'm being organised, then I'll pop into the Jewish Bakery on Brick Lane where they're 25p each. If I'm being disorganised, then I'm ashamed to admit that I give Tescos my custom, and get a pack of New York Bakery Plain Bagels instead.
Now, anyone can make French Toast, but I think there's a real knack to making good French Toast. The first key is to find stale bread - it will hold its shape better than fresh bread. Luckily, this isn't usually a problem in our flat.
The next key is in the soaking. Don't wave the bread over the egg-custard. Put the egg and milk in a big, shallow dish and really dunk the bread in there. For about a minute on either side, so that that it's fully-saturated. Now, don't make the pan too hot - you don't want the French Toast to blacken and burn. The aim is to get the outside crispy, and for the egg-custard in the middle to cook through enough so that it thickens and becomes lovely and creamy.
If I were American, then I'd drizzle the pancake with lashings of maple syrup, and squirt cream all over it. But I'm a Brit. And a Brit without too much of a sweet tooth at that. So I think that the perfect topping is a little pinch of salt. Definitely rock salt…ideally fleur de sel. I've got a beautiful little pot of Slovakian Slovely salt to bring out as a treat on occasions exactly like this.
French Bagel
Serves 2
2 bagels, halved
1 egg
60ml milk
1 knob of butter
Rock Salt/Fleur de Sel
1. Whisk together the egg and milk, so it's well-combined.
2. Soak the bagel in the egg-custard, for at least a minute either side.
3. Heat the butter in a pan. Once it's stopped bubbling, put the bagel in - flat side down first. Cook for 2-3 minutes.
4. Flip the bagel over, and cook for another 2 minutes on the other side.
5. Put the bagel on a plate, sprinkle a little salt over it, and enjoy with plenty of coffee.