Ronnie Saunders Diner's Union
One of the many wonderful thing about studying history at university is that you can disguise the big gaps in your knowledge very easily. Come pub quizzes or dinner party discussions, you simply extricate yourself from any historical debate by putting your hands up, smiling apologetically, and saying "it's not my period".
But the problem is, my wily Grandad is onto me. He has taken it upon himself to trying to locate my 'historical period' through process of elimination. He's worked out it's not the French Revolution, nor the Bolshevik Revolution. Medieval Britain is certainly "not my period". There was a small glimmer of excitement when I listed off Henry VIII's wives in order. But then I got Thomas Wolsey mixed with Thomas Cromwell, mixed with Thomas More. He has deduced that "my period" is not mid-twentieth century British politics, nor is it the founding of America, nor is it any time round The Spanish Armada - give or take two (or three) hundred years.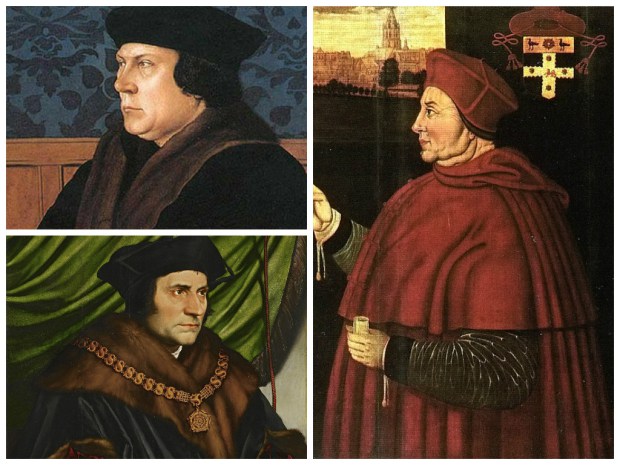 The sad truth is that my brain is not very good at retaining information. In fact, I often wonder whether it's good at absorbing any information in the first place. Sure, I know a little Beowulf. And studying The Nazis year in year out for most of my teens means that even I know my Goebbels from my Görings. But when it comes to times, dates, locations I am hopeless.
But then, is that what history is? Times and dates and locations?  
I like Rudge's definition in Bennett's wonderful History Boys: "It's just one fuckin' thing after another".  I also like Mrs Lintott's feminist stance: "History is a commentary on the various and continuing incapabilities of men. What is history? History is women following behind with the bucket."
See, The History Boys was partly inspired by Niall Ferguson - the great counterfactual historian. It's less about facts, and more about gobbets, trickery and analysis of grand themes. Now that's my sort of history. I don't remember much of what I discussed during my Oxford interview, apart from drawing vague comparisons between the development of post-revolutionary France and modern day Nepal. It seemed to work. I mightn't be good on Nelson's victories, but get me talking about women, ethnicity, nations…and I can talk and talk and talk…
(Poor Grandad, I can imagine him pulling out his hair if he reads that last sentence.)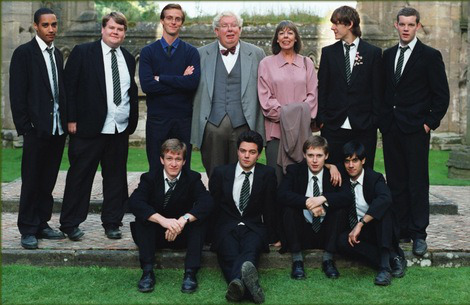 Old habits die hard. And when it comes down to day-to-day happenings, I can't help but put my analytical hat on. Take supper clubs. They started out as an underground movement. Cheap events - cooked by friendly food enthusiasts, for friendly food enthusiasts. Ms Marmite Lover's first supper club in 2009, for example, cost just £10 to attend. Admittedly she lost money, but she introduced new people, shared food, broke bread and was merry. 
Perhaps I'm doing the classical historian thing of looking nostalgically at the past. But I can't help that think that the role of the supper club has changed quite a lot since. Supper clubs are increasingly used by companies as a marketing tool. And meals often cost upwards of £60 - which is a big move away from the original, happy-go-lucky, more-inclusive type evening. When I did a supper club recreating the last meal on The Titanic, I asked 12 friends to throw in £10 to cover the costs. And I chucked in a bottle of gin for the table. But at £60+ per head, perhaps these once-friendly enterprises have turned into a bit of a money-making scheme.
Now. One thing that history will tell you, is that an action often triggers a reaction. And this post is really about the much-anticipated reaction I have found, born from the increasing cynicism surrounding supper clubs. And it's called Ronnie Saunder's Diners Union.
Diner's Union is run by Rolan Dack - an idealist, cook and entrepreneur. Despite working in the fine dining kitchens of Corrigan and Pierre-White, Dack went rogue, and set up a supper club in a marquee at the end of Shoreditch's Rivington Street, offering five courses for £15. 
"This is a place built on principles" the Diner's Union website says - indeed, it supports local homeless charity St Mungos, and has priced the meals at all-inclusive rates. "Leave your ego at the door and look each other in the eye" the site instructs.
Diner's Union is inspired by Dack's grandfather, Ronnie: "A man's man and a ladies' man, a champion of equality and a proper London character." When he died five years ago, Dack said that he left behind "a lasting memory and a set of values that the team are applying to the project, which is aimed at bringing people together through the best way they know how - providing outstanding food for everyone."
For a while now, I have predicted the 'supper club backlash' - and I think that this is it. It's not a silent dining room, filled with stiff professionals nervously eyeing each other up at the start of the meal. It's a bustling marquee with an eclectic mix of happy and relaxed faces. Trestle tables and benches run down the length of the room in banquet-style seating. It fills up slowly throughout the night, giving diners the flexibility to play the evening as they want. If a couple would prefer to catch up with each other, then they can find an empty space at the end of the table and do just that. But if people want to embrace the communal dining situation, then there is plenty of opportunity to slide next to someone on the bench, and start chatting.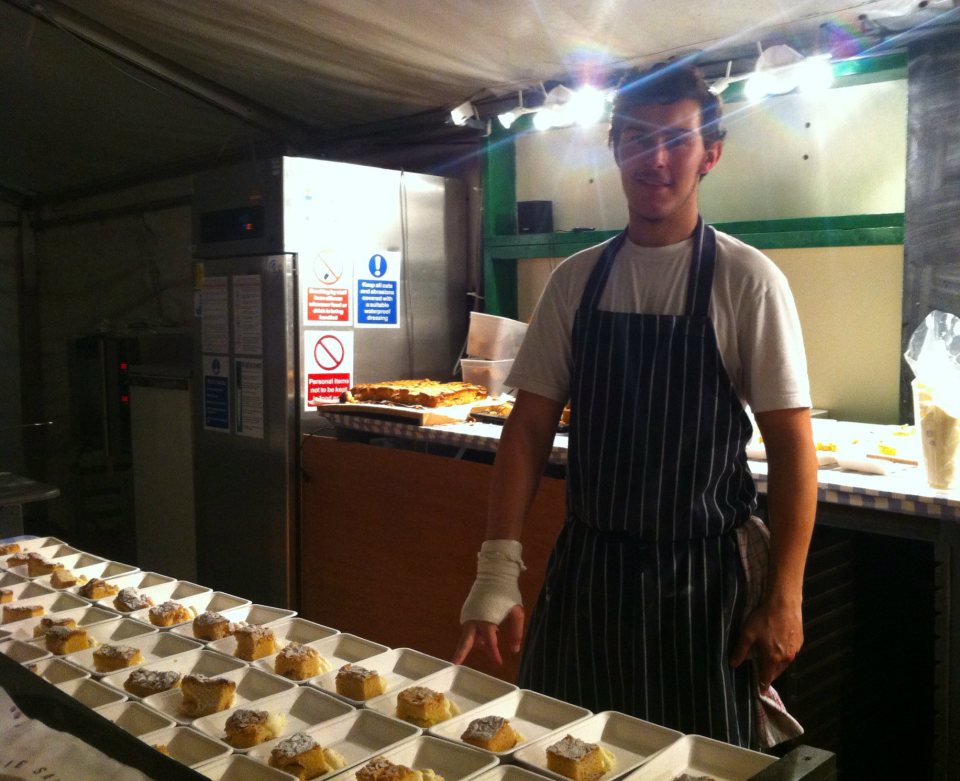 There is a band at one end, and bar at the other - though it's only licensed to sell soft drinks, hence the BYOB rule (£3.50 corkage). And all along the side are five 'stations' manned by chefs. On arrival, each diner is given a tray. Throughout the evening, they visit each station, and have a '1-5′ marked off on their sheet as they work their way through the courses. The timings are totally flexible - so you could whizz through the meal in a cafeteria style, or eke it out with several glasses of wine between each course.
Ronnie Saunder's Diner's Union only takes place on Fridays and Saturdays. And each week, the chefs put their heads together to come up with a new theme.  There's been Italy 827 AD, French Revolution and 'Battle of Cable Street'. We went to the 'Denmark: The Union of Kalmar, 1397 A.D.' night. I cant tell you much about the historical background (honestly, it's not my period). But I can tell you that Danish cuisine is big on pickling - my favourite. Incidentally, such is my current obsession with pickling and Scandi cuisine, I'm off on holiday to Denmark at the end of the month. 
The meal didn't disappoint. The first course was 'smørrebrød' - a dense slice of walnut bread, with smoked butter, micro herbs and flecks of salty chicken skin. It was perhaps more substantial than your average canape or starter. But neither Thomas nor I were in any rush to get through the meal, so we enjoyed it slowly and aided digestion with a glass of discount Chablis we'd found in Tescos.
Next, was soured herrings with pickles. A very clever, scalable dish - but delicious nonetheless. The detailed spots of horseradish is above and beyond anything you would expect for street food prices. The pickles were sharp and crunchy, and have inspired me to accompany my next batch of smoked salmon with pickled beetroot.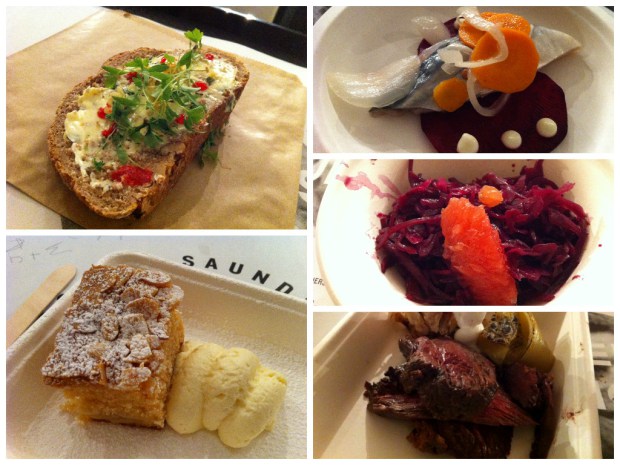 The main course was ox bavette. One of my favourite cuts. But only if it's cooked well - too long, and it becomes tough and chewy. Picking ox bavette when catering for around 100 diners, using mobile equipment in a car park, was a demonstration of the chefs' confidence. The fact that it was served with a milk foam which was then briefly caramelised with a creme brulee torch was another hint about how the chefs at Diner's Union aren't playing about. Most of them are Michelin-trained, and it shows - both in the quality of the food, and the relaxed atmosphere. No manic cooking, but the calm and choreographed movements of chefs who have spent many years working on kitchen stations, and are quietly and efficiently getting on with their job for the evening.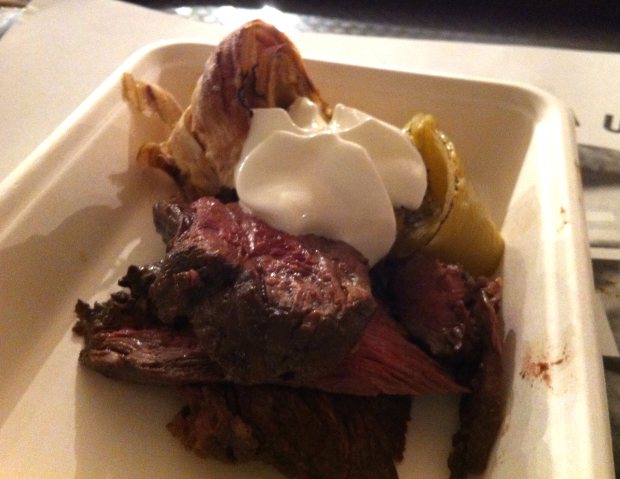 The ox bavette with milk foam was accompanied with roasted artichoke and half a roasted head of garlic - again, clever and scalable choices. And utterly delicious. Course number 4, Rødkål, was more of a side dish: red cabbage, with a pickled grapefruit garnish. Such a treat - and my first red cabbage of this autumn, which was a wonderful occasion.  By this time, we were pretty full. But the dessert of apple and almond sponge, with a custard cream was the perfect lightness, and the perfect size. 
I can't sing the praises of Diner's Union enough. It is revolutionary, it is delicious, it is fun…and did I mention, it is only £15. My only worry is that everyone else is going to find out about it, and the 100 person benches won't be nearly enough. So I'm booking my place for the next feast soon…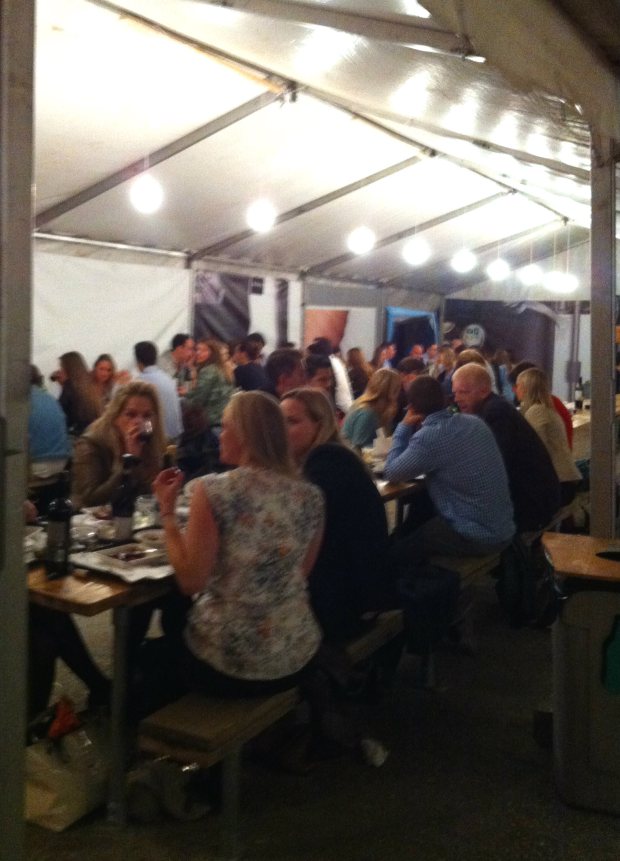 R3D Market, 5 - 7 Rivington Street
London, EC2A
Open: Fridays & Saturdays 6pm - 11:30