Indian Spiced Plum Chutney
Everybody has their own way of using up fruit which is just on its way out. I turn brown bananas into banana ice cream or banana bread. Apples are stewed, and strawberries become a summer fruit compote, often used in summer pudding.
As we come to the end of plum season, I've managed - not once, but twice - to get quite a good deal on slightly-squidgy, slightly-wrinkly plums. Not the kind you would put in pride of place in a fruit bowl. But a low-cost specimen, which you don't feel remotely guilty stewing down, and turning into something tasty.
I made a fruit compote with the first batch. I added a little cinnamon for flavour, and sugar - to round off the tartness and encourage the plum compote to develop a jammy sheen. I then spooned it onto a rectangle of rolled-out puff pastry, popped it in the oven at 200C for 25 minutes, and called it a galette.
The second batch of plums coincided with a friend's engagement party. Crikey, I know, I really am grown-up.  Though not quite grown-up enough for it to be the norm. In fact, it was my first ever engagement party. I wasn't sure what you're meant to take to such event. Tom took champagne. And so I convinced myself that the perfect accompaniment was a jar of plum chutney.
I made lots of this spiced plum chutney, and have been enjoying the remainder of the batch in the flat. Plum chutney is undoubtedly sweeter than an apple chutney. So the heavy-handed spicing is quite critical, and introduces some lovely flavours which make this a delicious chutney to serve with ham or cheese or, (I imagine), duck.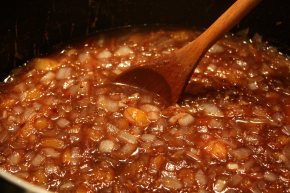 Ingredients
3 onions
3 tablespoons oil
1 tablespoon mustard seeds
1 tablespoon ground cumin
1 tablespoon ground coriander
2 tablespoons fresh ginger
2 dried Kashmiri chillies, chopped
1kg plums, halved with their stone removed
600 ml red wine vinegar
450g soft brown sugar
1. In a big pan, sweat the onions in the oil until translucent.
2. Add the mustard seeds, allowing them to pop in the hot oil. Then add the ground cumin, coriander, ginger and chillies - stirring everything in the remaining oil to make a fragrant masala.
3. Pour the vinegar over the masala, and then add the plums. Stir in the sugar. Bring to a simmer, and stir - so that the sugar dissolves.
4. Continue to cook on a low heat, stirring occasionally. After about 40 minutes, the plum chutney will have thickened, and will be in danger of catching on the bottom. At this point stir constantly to prevent it from burning. Keep doing this until the chutney is thick enough that when you drag a spoon through it, the channel remains visible for a few seconds.
5. Allow to cool. Put in a jar. And let it 'mature' for a couple of weeks before eating.