Engagement Pudding
Those of you kind enough to read my most recent post will know that Denmark is a country apparently bereft of pigs. Well, it's quite short on people too.
 I'm embarrassed to admit that I didn't concentrate that hard when I was doing 'gothic literature' for my A-Level English…but I concentrated enough to know that "isolation" was pretty important. It explains why so many eerie films and books are set in Scandinavia. There's barely anyone there. The Killing, The Girl with the Dragon Tattoo, The Bridge…Hamlet. Terrifying.
I know, I know, I live in London. My views are skewed. But even when I visit my parents in the small South Leicestershire village of Smeeton Westerby, I see more people than I saw on the 70 mile drive from Rørvig to Copenhagen.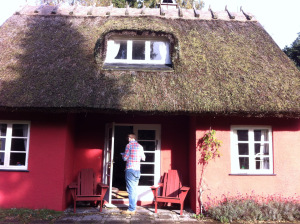 Please, dear reader, don't get me wrong - I loved it. I'm just sharing my astonishment.
The cottage where Tom and I were staying was wonderfully remote. In a village, down a squiggly path, then down a forest track. Beautiful remoteness. We arrived, and flicked on the hot water, we brought in some wood and fired up the stove, we found a couple of bikes in the shed and cycled off to the beach. Bliss.
"Imagine if we were sitting in the cottage tonight, and a face suddenly appeared at the window" I chuckled, as I navigated a sandy, forested path -  "Here's Johnny…" images whizzing through my mind. And on we cycled.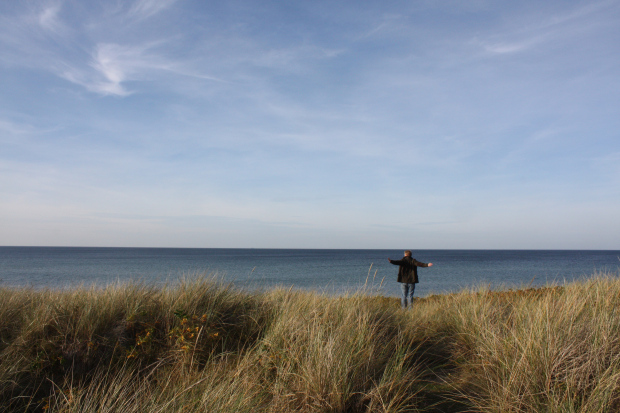 Danish beaches are beautiful. Neither of us are good at sun bathing, but we're good at yomping. So the bracing breeze and long stretch of white sand was ideal. We didn't even feel bad about being too restless or too susceptible to sunburn to stretch out and soak up the rays. Instead, we marched up the beach far as we could go. And then turned round and then marched all the way back again.
We went got back to the cottage. Night fell, I made a gin and tonic. And then quite a remarkable thing happened. Tom suddenly shot upstairs, shot back down again, fell on one knee and proposed. Then another extraordinary thing happened. There was a tap…tap…tap on the glass, and an uplit-face appeared at the window…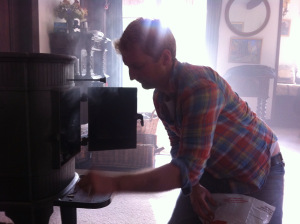 …shaking a little, (out of possible fear/shock/excitement), I cowered behind Tom as he opened the door…to reveal an elderly neighbour stood on the doorstep. "Come in, come in" we said, "we're just about to open a bottle." Being far too British to explain why we were about to open a bottle. "No, no" he said, hovering on the doorstep, and embarking on an abridged history of the past twenty five years in Rørvig.
After what was, realistically, five minutes (but in my shaken-up state felt like fifteen) the kind neighbour left. We phoned our parents, and then phoned Tom's grandparents. And then 'The Granny Network' shot into action. Tom's Granny phoned her friend who owned the cottage in which we were staying, who then phoned the next door neighbour…
…the following evening I was sipping a gin and tonic, and then there was a 'tap..tap…tap'. We pulled the curtain aside, and there was the now-familiar sight of the up-lit neighbour. "I heard your good news…" he grinned, brandishing a trifle bowl. "So my wife made you a celebratory pudding". Thus cemented a life-long love for Denmark and all (few, though there may be) Danes - in particular the wonderful neighbours. 
The following day, our friend's wife explained that the red jelly and blue violet petals were strategically placed against the white whipped cream backdrop to symbolise the red, white and blue of the Union Jack. It really was the most extraordinarily kind gesture. And the most extraordinarily delicious pudding. I asked for the recipe, but was only given a verbal explanation…and fear that quite a lot got lost in translation.
The pudding was a layer of poached apples, and dark breadcrumbs. The dark breadcrumbs were - I think - coated with melted butter and sugar and then cooked. Brown sugar, I imagine. I tried to recreate it tonight, but only realised (once I returned from Tescos) that I was out of brown sugar, so I tried a butter and black treacle combination instead.
I had hoped that I'd be able to exactly replicate The Engagement Pudding, and post a recipe. But it's really hard to replicate something as special, and do it justice. And I fear I failed. So instead I shall write my attempt below, and ask of you - dear readers - to let me know if you have any suggestions how I might be able to recreate the original. Or if you happen to have ever stumbled across a traditional Danish recipe for a poached apple-dark breadcrumb trifle….
Recipe: Engagement Pudding
4 cooking apples, cored and quartered
1 tablespoon sugar
6 slices of Hovis bread
50g butter
1 tablespoon black treacle
100ml cream, whipped
1. Boil a saucepan of water, stir in the sugar, and then poach the apples for 5 minutes.
2. Tear up the bread into small pieces (though not as fine as traditional breadcrumbs).
3. Heat the butter and treacle in a pan. Add the bread and stir until coated.
4. Put the treacle-breadcrumbs in an oven at 180C for 8-10 minutes. Allow to cool, and then break into smaller crumb-like pieces.
5. Layer apple, and then breadcrumbs, and then apple, and then breadcrumbs. And then top with a single layer of whipped cream.