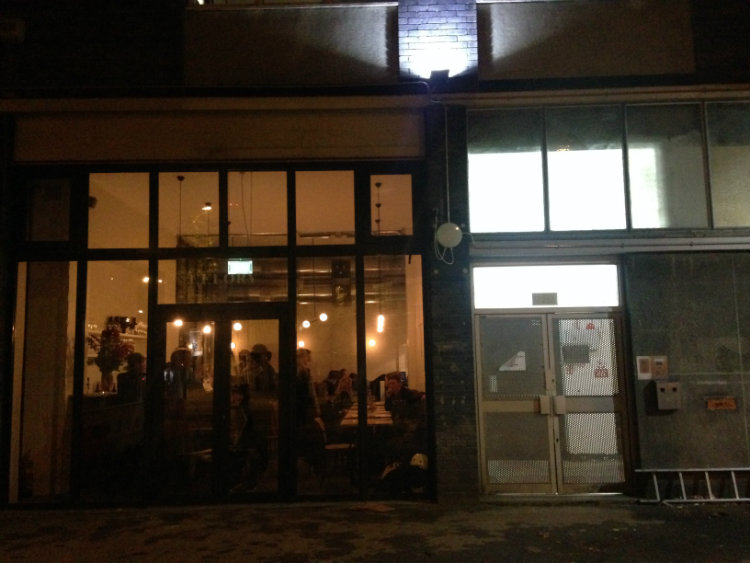 I've come across some baffling menus recently. It throws up this recurring scene which plays in my mind. It begins with a one-arm bandit being wheeled into the kitchen one morning – a kind of gourmet fruit machine, which is put in charge of recipe development. The chefs gather round it, and pull the handle…
PING! …..roe deer
PING! …..dehydrated sea urchin
PING! …..olive ragu
PING! …..partridge broth
PING! …..burnt apple
The head chef phones up his suppliers to track down each ingredient, and then sets about charring and pickling, deconstructing and shoehorning everything onto the same plate.
Maybe I'm becoming less adventurous, but I don't get it. I'm starting to crave order and cohesion which are two things I've never craved before. But then I'd never before been faced with anything like a morsel of pork scratching topped with lumpfish roe and borage petals for £8.50. It's enough to make anyone feel nostalgic about good ol' bangers and mash, fish and chips, sponge and custard.
It's with this in mind that I introduce East London's latest opening, Ellory. It's located in the accidentally hip Netil House – a brutalist, grey building which, at first glance, has all the drabness of the technical collage it once was. Only it's been commandeered by creatives. They've set-up studios, opened-up the rooftop. It's a hub of yoga classes and nascent record labels, photo shoots and pop-up cinemas.
The space which Ellory now occupies was once a night club on the ground floor. But the walls have been give a lick of paint, a very sweet and small kitchen has been installed, and a couple of weeks ago, wooden tables and chairs arrived to seat thirty or so diners – completing its transformation into neighborhood restaurant. The spot isn't one which shouts 'cohesion and order' – if anything, its location, its story, certainly leans more toward eclecticism.
We snuck into a table in the corner, which gave us a great view of the kitchen where the four chefs were silently weaving round each other. Calm and sweeping movements – a choreographed dance of pans and ladles which was designed to fit a space no bigger than a university dormitory.
The meal started with bread and butter. Something which often sets the tone. If that was the case, we were in for a treat. The bread was tangy and chewy. A hundred different flavours in a single slice, underlined by a dark, rustic crust. Honestly, if the meal started and finished with that bread, then we still would have gone home happy.
The joy of bread and butter – without the interruptions of expensive little morsels of deep fried pigs head or farty quails eggs – was followed by another beautifully simple starter: Mackerel and Clementine. The fish was expertly prepared. I'm no sushi expert, but I know enough to realise that whoever dealt with those mackerel could sure wield a filleting knife. Such precision and clean lines requires serious mastery.
Orange can be a difficult flavour to work with. I'm not a big fan of Terry's oranges or duck a l'orange. But the oily fish and sweet-sharp Clementine were happy bedfellows. So much tastier than sushi, so much more subtle than ceviche – which seemed sharp and brash in comparison to this quiet, Scandinavian-style dish.
The next course was perhaps as close to a perfect plate as I've ever experienced. Two pieces of brill – one meaty cut from near the spine, and one delicate, feathered sliver from near the fin. The fish bones had been boiled into a stock which was formed the base of the  buttery-rich sauce, and the simple accompaniment of iron-rich spinach and a airy-light quenelle of parsley root worked beautifully together. It was classic cooking, enhanced by the absence of dehydrated trotter or freeze dried cloudberries – just subliminal 'meat 'n two veg.'
It's rare for us to eat in silence. In fact, I don't think it's ever happened before. But the brill was so exciting, so tantalising … it didn't warrant conversation. Just a downward, communion-like focus. As Tom finished his last mouthful, he finally lifted his watery gaze from the plate: "do you think … do you think we could try to recreate this at home?" he asked, showing a misplaced confidence in my ability. The answer was simple. No.
Main course followed. A piece of Saddleback loin, butchered by someone who, rightly, saw as much beauty in the fat as the meat. The loin swam in a dark sauce which was as sticky and unctuous as ramen broth, and a mound of bitter leaves cut through the lip-smacking fat. Parisian carrots, which looked like beautiful little persimmons, but tasted earthy-sweet added a flash of colour to the plate, in what was another triumph of a dish.
The final course was Pumpkin Ice Cream and Chantilly. Just two simple flavours, which couldn't have better suited the warm, autumnal evening. Light-as-a-feather textures played alongside the pure flavours of sweet root vegetable and cream: silky-smooth ice cream almost hovered on a pillowy-soft cream base, and was capped with a floating crisp tuile disc. We sipped a slightly chilled Moscatel Dorado Cesar Florido, which was walnut-sweet. Utterly decadent in every way, except the price, which was a reasonable £4 per glass.
Despite working in food – or perhaps because I work in food – I'm not in the habit of dissecting meals on the walk home. I often find other urgent things to talk about. But sometimes a meal is so exciting, I can't think of anything else. Needless to say, I breathlessly chattered about Ellory the whole way home. Running through each course, each detail all over again. The conclusion? Unanimous. "Best meal of 2015″ – and with only 34 days left, it's going to take some beating…
Ellory
Netil House,
1 Westgate St,
London
E8 3RL
www.ellorylondon.com