Poached Eggs & Hollondaise Sauce
At school, there was a bench in front of the dining room, where they laid out newspapers. As people waited to go into lunch, they browsed the headlines. I remember one lunch in particular - I've looked it up, and it was back in 2002 - where the front page (in The Daily Mail anyway) read: "SALMON GIVES YOU CANCER". The doors to swung open, and there laid out on the refectory tables were big platters of salmon. Not much got eaten that day.
The problem is that the papers are always changing their mind. Eat dairy, eliminate dairy. Have a glass of red wine every day, cut out red wine. The Daily Mail is perhaps the biggest culprit -  'informing' me that chips may cause cancer, hash browns may cause cancer, additives in 'everyday food' may cause cancer, 'cooked food' may cause cancer - and that's before they even started on red meat, salt, grains…
 There's no group that's more susceptible to changing nutritional advice than sportsmen. My brother, who plays professional cricket, is living with us at the moment. On his first morning here Tom walked downstairs to iron his shirt, and found Greg tucking into four breakfast muffins, half a pack of ham and about six egg's worth of scrambled eggs.
"It's all about breakfast" he assured me, stacking high a pile of breakfast muffins against the fridge. But later in the week, he visited the team nutritionalist, and apparently that's old news. It's not about breakfast any more. "Little and often" he said, slowly nodding his head. "No carbs, but big on fat" he said, now looking sniffily at the mound of breakfast muffins, and scouring the kitchen for butter.
He pointed out that Hollondaise was pretty fatty, so this Saturday we decided to make poached eggs with Hollondaise for his birthday breakfast. It was the perfect culinary swap, because poached eggs have long been a nemesis of mine. I've tried all the tricks - whirling the water into a vortex, adding drops of vinegar, big pans, little pans. But the white always seems to disintegrate into a froth settling on the surface, with the lonely yolk lurking beneath.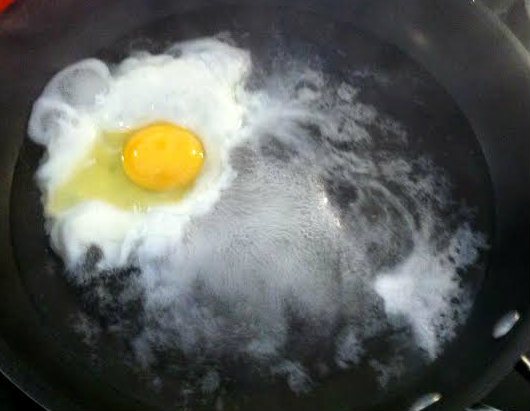 Greg showed me a trick he'd come up with, which involved a deep-ish frying pan and boiling water. Simply crack the egg into 5cm of water, and let it just sit there happily poaching until it's done and then scoop it out. Genius.
My part of the skill-swap was showing Greg how to make an emulsion. The patience of whisking the Hollondaise over a very, very low heat to prevent it separating. Occasionally lifting it off the heat, and only returning it when you're satisfied it's going to behave itself. "This is good" said Greg, holding aloft my balloon whisk, looking at it in awe. "Where can I get one?" he asked. So not only did we have a killer breakfast, but I also got an idea of what to get my hard-to-shop-for brother for his birthday.
Hollondaise Sauce
Serves 2
60g butter, cubed
1 egg yolk
1/2 lemon, juiced
Put the butter and egg yolk in a pan and start whisking.
This should be done on the lowest-of-low heats. If you try and rush the process, it's game over. At all times, the sides of the pan should be just warm to touch, not hot.
After at least five minutes of whisking, you'll notice that the sauce will start to thicken.
Keep going until it reaches a mayonnaise-like consistency.
'Season' with the lemon juice, and then transfer into a cool container until you need to use it (if you keep it in the pan, it will keep on cooking).