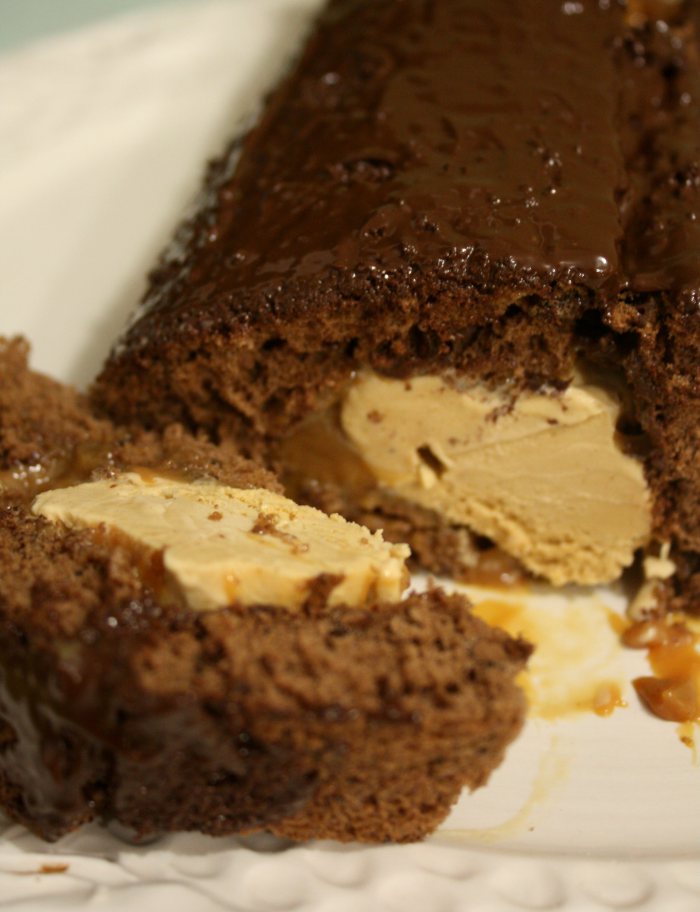 The new issue of Blogosphere magazine is out (e-edition only, print available at the weekend).
It features an interview with Sasha - best known as Liberty London Girl. Sasha started blogging back in 2007 - an early pioneer. She launched The Wall Street Journal's WSJ magazine as executive style editor, and has an heap of other magazine credits to her name. She has successfully made blogging a full-time career, and now has a small team now supporting her, as well as an off-shoot media consultancy agency.
When a phenomenon like blogging explodes so quickly, and evolves in such a fast and frantic fashion (as is the way with most things internet-based) there's no time to write a rulebook. Hell, people have tried, but by the time it's published, the rules have changed.  So one of the best ways is to look to the pack leaders for advice.
Blogging throws up lots of ethical conundrums : If you're sent a free press sample, do you have an obligation to write about it? If you do, should you mention that you were given it free? Will it make the review seem biased if you do? But then is it misleading if you don't?
It's liberating not having a rule book. But a little guidance is often a good thing.

So it was great to get Sasha's opinions on some of these conundrums:
"I'm not a fan of people creating really bad models for young women [...] bloggers who create fantasy lifestyles and don't disclose what's been comp'd, bloggers who eat really fatty foods while claiming to be nutrition experts, bloggers who make young women feel insecure because they haven't achieved what you've done. It's antithetical to what blogging is supposed to be - blogging is supposed to be an open platform." - Blogosphere magazine, Issue 2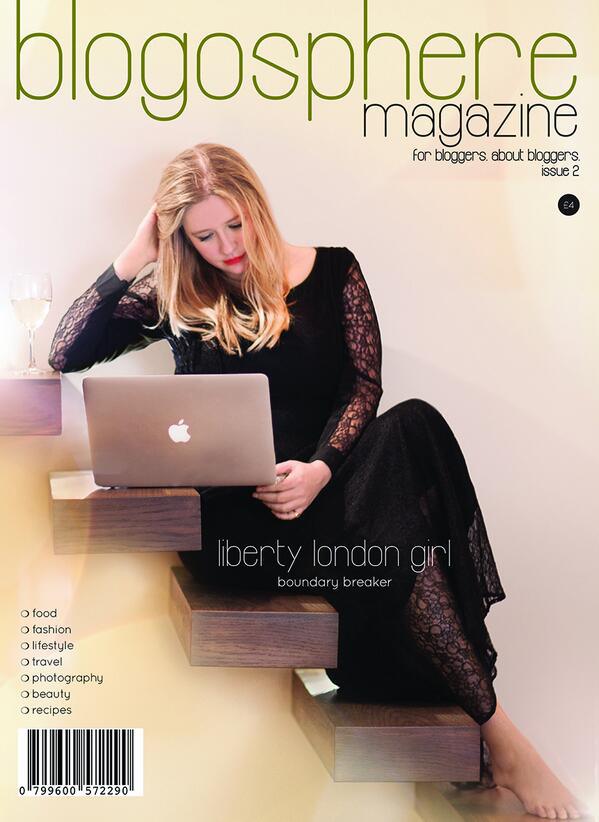 Being called The Food I Eat, I like to think that this is a pretty open platform. This really is the food which I do eat. Sometimes it's a quick daal, or some leftover celery soup. If I'm having friends over, it's something a little more celebratory like an ox tail ragu.
One rule that I am strict about, is that I would never recommend something on my blog that I wouldn't recommend to a friend. I have been invited to review the occasional restaurant (and I often go under my own steam). While I will happily recommend the good ones (Jubo, Sager & Wilde), I would never big-up a bad restaurant, just because a PR gave me a free meal there. What if a friend went and spent their hard-earned cash on my recommendation, and had a rubbish evening? It's not fair. For this reason, I rarely accept restaurant write-ups. I find it all a bit stressful.
Then there's the matter of products. Through my day job, I'm lucky enough to be sent lots of exciting foodie bits and bobs to try out, but I rarely write about them on my blog. In the past I've felt a bit funny about it - perhaps because a restaurant review easily links into a lifestyle post, detailing 'the food I eat', while a post on a product can feel more like a straightforward plug.
Sasha gets sent lots of fashion samples through her day job, and while she will never guarantee companies editorial, she happily writes about her favourite pieces - always making sure that she puts some form of disclosure at the bottom of the post. This is what she means when she criticises bloggers' "fantasy lifestyles" - the ones who live off freebies, never disclosing them, and portraying an unrealistic and often unachievable lifestyle.
The problem is a lot more stark in lifestyle and fashion blogging where big bloggers are showered with free wardrobes, free flights, free holidays. Even if I didn't disclose my freebies (which I do!), I don't think that the odd spice rub or pot of coconut oil would convey too much of a fantasy lifestyle.
Giving the matter a little more thought has helped me make the decision to write more about products, and to write more openly. As with restaurants, I pledge to only plug products which I would honestly recommend to a friend. I'm excited because an honest write-up can be a great thing. It's great discovering new products on market, and there are lots of super companies out there which I'm looking forward to sharing with you.
Let me start with Jude's ice cream. If you are a regular reader, then you will know that I rate myself as something of an ice cream connoisseur, so I am deeply ashamed to admit that I had never come across a tub of Jude's until just last month.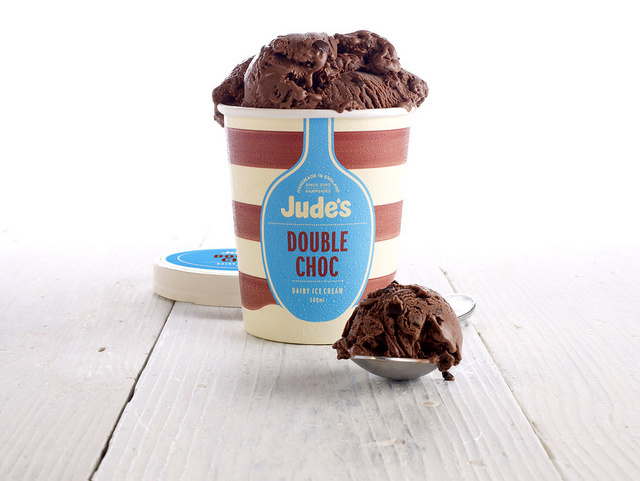 Their story starts with the classic (but heart-warming) tale of a disillusioned banker. Fed up of dealing with make-believe figures, he emigrates to Hampshire and decides to start a company which actually makes something. Something tangible.
"With an empty barn, a churn and the help of some local cows, he set out to create the world's tastiest ice cream." And the company was founded and named after 'his' wife, Jude (mysteriously the company founder is only ever referred to as 'Jude's Husband').
Endearingly, the first goal was to get the ice cream stocked in the local pub - The Chestnut Horse. After achieving that, the Jude's started getting interest from some pretty darned big chefs who began ordering in bulk to stock their restaurants and hotels. The company didn't start-out with a prettily-branded consumer product. They started out with corporate catering orders, and only diversified into little commercial tubs later on, due to demand. Twelve years down the line, Jude's is still run as a family enterprise (with Jude and her husband's children now part of the family firm). They have just won their first supermarket contract with Waitrose, and are well on the way to making some of "the world's tastiest ice cream".
Last week, I met Laura Cope, who works at the company. She whizzed across London to meet me at Hackney City Farm, with a few sample tubs loaded on the back of her Vesper: very vanilla (luxuriant, Madagascan Bourbon vanilla flavours), strawberry tease, (with real strawberries - excellent!) double choc (I'm not a big fan of chocolate ice cream, but this was rich, not-too-sweet and delicious), ginger spice (with real lumps of stem and crystallised ginger - bliss), honeycomb crunch (big chunks of honeycomb) and (the outright winner, in my opinion) salted caramel.
Quite excitingly, Jude's are running a competition for bloggers to make an Arctic Roll. Having never attempted this retro-beauty, I thought I'd give it a go. The competition is being judged by Frances Quinn, winner of this year's Great British Bake Off. Renowned for her clever, quippy creations, I thought I'd better put my thinking-cap on, and so, using the salted caramel as a starting point, I came up with this recipe for an Arctic Rolo, geddit?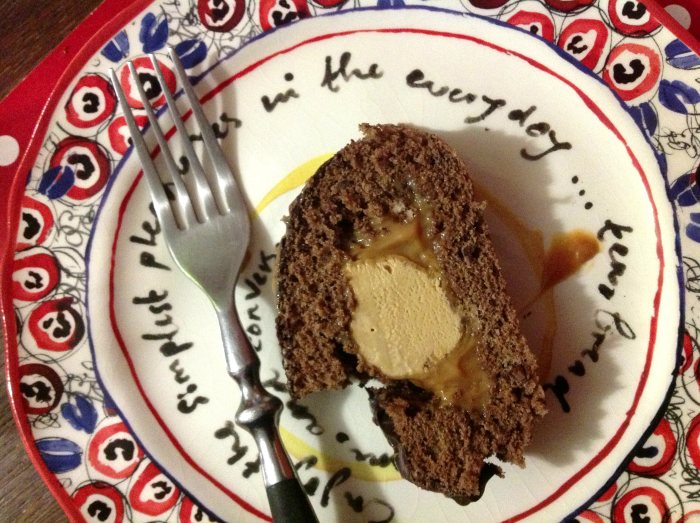 Arctic Roll-o
serves 4
120ml Jude's salted caramel ice cream
3 eggs
125g caster sugar
100g plain flour
25g (Cadburys Bournville) cocoa
200g (Nestle Carnation) caramel
100g  dark couverture chocolate
1. Cut the mini tub of ice cream into quarters, and lay them out in a line on a sheet of baking parchment. Use your hands to gently squeeze them together into a sausage-shape. The ice cream will become a bit melty, and it won't be perfect. But that doesn't matter too much. Put it back in the freezer to harden.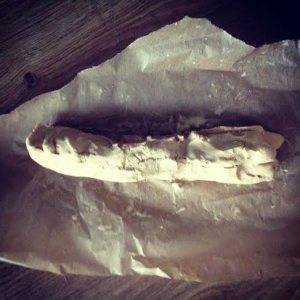 2. Whisk the eggs and sugar together for about 5 minutes, until it has become a nice, thick and pale mixture, where it leaves a trail behind it in the bowl.
3. Sift in the plain flour and cocoa, and use a spatula to carefully fold the mixture. Pour it onto a lined, rectangular tray, and spread it a little so that it's no more than 2cm thick. Put the sponge mixture in the oven at 200C for 10 minutes.
4. While the sponge is still warm and supple, wrap it round a rolling pin and leave it there to cool, so that it gets used to being in a rolled-up position.
5. Once cool, spread the caramel over the sponge.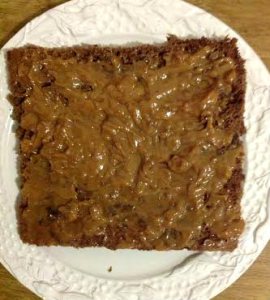 6. Take the ice cream out of the freezer, unroll it from the baking parchment, and put it in the middle of the caramel-coated sponge rectangle. Wrap it into a roll-shape.
7. Melt the couverture chocolate in the microwave by putting it in for 15 second periods and stirring in between each 'ping' until melted. Use a palette knife to spread the chocolate over the sponge roll. Return to the freezer before serving.
As I think I've made clear (!) I was kindly sent some sample pots of ice cream by Jude's ice cream (now available at Waitrose)
For other food bloggers keen to enter the Arctic Roll competition, see the T&Cs below. 
T&Cs for the competition
Competition opens on Thursday 28th November 2013 and closes on Thursday 19th December 2013 with entries needing to be received by 13:00 on this date

All entrants must live within the M25

One winner will be chosen by, and at the discretion of, Frances Quinn and Jude's Ice Cream by Friday 20th December and notified by email by this date

The winner will receive: A mixed box of 6x 500ml Jude's Ice Cream, 1x copy of The Hampshire Cookbook, 1x ice cream scoop signed by Frances Quinn

The winner must be available to receive delivery of the prize on Friday 20th December

Entrants must have a current blog or website and their entry must be posted on their current blog or website

The entry must come in the form of a recipe that contains at least one Jude's product

Entrants must email Rose at Story PR (

[email protected]

) stating which flavour of ice cream they want to use in their recipe and this product will be sent out at no cost to the entrant. This email must be received by Rose by midday on Thursday 12th December
Entrants must email Rose at Story PR (

[email protected]

) with a link to their entry on their blog or website

The prize is as stated and not substitutable for cash, vouchers or any other products