Celery, Raisin and Mackerel Salad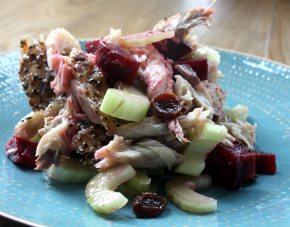 I know, I know, another mackerel salad. I suppose that's the problem of genuinely blogging about 'the food I eat' - if I buy a pack of three mackerel, then there are going to be a few mackerel posts while I get through it all.
I really do love mackerel though - man, it's tasty. And it's got that fishy oiliness which you just know is making you big and strong and kicking your brain into action….all that Omega-3. This just takes seconds to put it together, and the crunchy celery, juicy raisins and earthy beetroot are quite the combination. Enjoy!
Celery, raisin & mackerel salad
Serves 1
10g red wine vinegar
10g raisins
1 smoked mackerel with crushed peppercorns, skin peeled off
1 stick celery, finely sliced
1 cooked beetroot, diced
20g virgin olive oil
Salt, pepper
1. Pour the red wine vinegar into a little jug, and add the raisins. Let them soak in the red wine vinegar for as long as possible - 5 minutes is fine, 5 hours is great.
2. Break up the mackerel into chunks. Put them in a bowl with the celery and beetroot.
3. Scoop the raisins out of the jug, and add to the rest of the salad.
4. Add the olive oil to the jug of red vinegar. Whisk, and season with salt and pepper. Pour over the salad, and use your hands to gently toss. Serve.