Spicentice Chilli Con Carne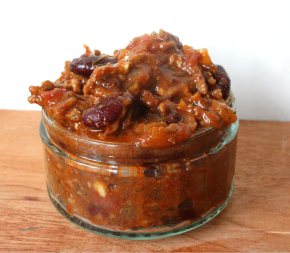 "When I went to university, I couldn't cook" admits Ketan Varu, founder of Spicentice.
"My mum started posting me little parcels of measured-out spices so I could make something which tasted of home" he says. The bags of spices arrived with simple instructions: 'fry an onion in oil, add the chicken, tip in a tin of tomatoes'. By the end of his degree, Varu had learned how to cook. And he was inspired.
He figured that there was a gap in the market for people to have the same helping hand. Back home in Leicester, Varu and his parents started packing up the spice blends and selling them at farmer's markets, and so Spicentice was born.
Skip forward a few years - and now Spicentice is stocked at Ocado, Tesco and Whole Foods - and is helping home cooks all over Britain whisk up beautiful and impressively complex dishes.
"Spicentice is meant for intermediate cooks" he explains. "It's for people who want more than a microwave meal, but they don't necessarily have a cupboard brimming with spices."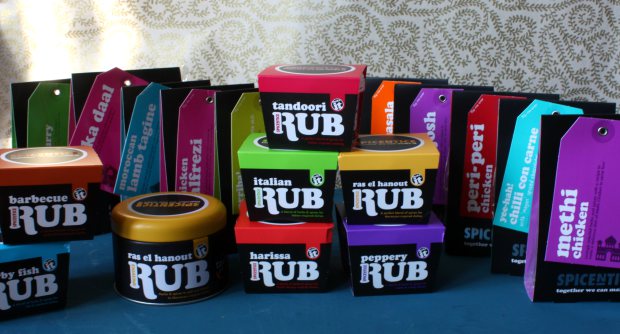 As a self-taught cook myself, I will happily put my hands up, and confess that I "cooked" curries from a jar of Sharwoods for years before I had an epiphany which came in the medium of a cooking class. I watched a curry made from scratch, and learned that a 'masala' - or the base to a curry - was made out of a few spices, cooked and then covered in water.
It seemed a lot like healthier - and most importantly you know exactly what is going into the dish. Now I always make a curry from scratch. But developing and maintaining a spice collection is an ongoing project. Even now, I might have a lovely collection of spices for Indian cooking - but I don't have the right spices for making a Moroccan tagine or a Jamaican jerk chicken or a Thai curry from scratch. Space is at a premium in London, and my kitchen is bursting with too many ingredients as it is.
This is why I think that Spicentice is onto a winner. Take the chilli con carne sachet. It contains cumin seeds, chilli powder, smoked paprika, ground coriander, oregano, black pepper, thyme, ground cinnamon, cassia bark - and 29% Mayan spiced chocolate (made from cocoa nibs 46%, unrefined light muscovado sugar, cocoa butter, cocoa powder, chilli, achiote, allspice, vanilla and sea salt). Aside from taking forever to measure out eighteen different ingredients, it would cost a small fortune to buy each individually (the Spicentice sachet which makes enough chilli con carne for four costs £2.49).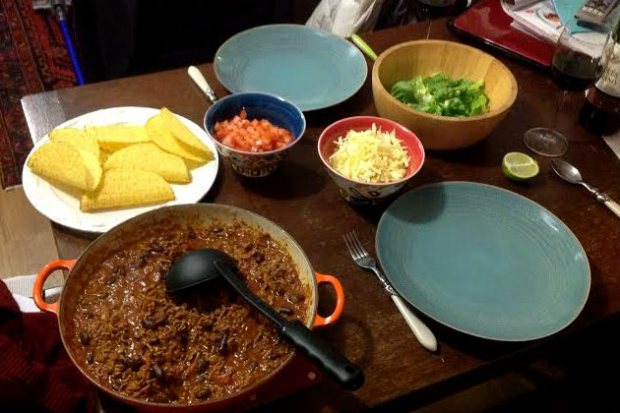 On Monday night, I was out until late, signing off the latest issue of Blogosphere magazine. But that's fine - because Monday night is Tom and Charlie's night anyway. They have a shared Achilles Heel, in the form of Made In Chelsea. I'm sure that I too would suffer from this terrible affliction it if I had better facial recognition, but I struggle to tell all the characters apart. So it's always best that I make myself scarce during that primetime viewing slot which is 10:00-11:05pm on a Monday evening, Otherwise I cause agro by asking too many questions.
Anyway, this Monday I suggested that they tried out one of the Spicentice packs. I was absent during the cooking of it, but from all reports, it went very smoothly. The packets have easy-to-follow recipes on them, as well as a shopping list for all the extras. All that was needed was 500g minced meat, onions, garlic, tinned tomatoes, kidney beans, 3tbsp tomato puree, a lime, stock, cooking oil, salt and sugar. Nothing too taxing. Tom and Charlie added their own bit of culinary flair with some cheese, tacos and salad.
So later that night I came back to two boys scandalised by the latest MIC episode, but delighted by their supper. They had kindly left some of the chilli con carne to try, so I can reliably inform you that it was flipping delicious. I don't often plug brands on this blog, but I really am quite smitten with Spicentice. If you compare the ingredients which go into a standard, BBC Food chilli con carne recipe with the ingredients that went into Monday night's recipe, you're almost dealing with a different dish - certainly in terms of authenticity and flavour. I wish the company the best of luck, and urge you to give one of their dishes a go yourself.
Spicentice were kind enough to send over some free samples. 
I only write about products I like, and can assure you I will be buying some more in the future.