Mackerel, Carrot and Beetroot Super Salad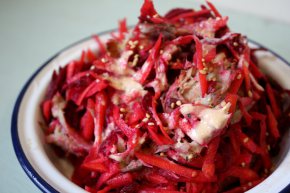 When I was living in Oxford, and there was an uninspiring grey old day like today, I'd treat myself to an Alpha Salad.
It's a legendary salad bar in the covered market. Big juicy butterbeans and nutty lentils. Tangy coleslaw, and heaps of Mediterranean vegetables. You could pick from a generous lump of goats cheese, with a thick creamy rind, chicken, tofu and smoked mackerel. Spoonfuls of pesto, and handfuls of seeds. You would leave with a million flavours crammed into a cardboard box, and a wooden fork, to sit on a bench outside a library and really relish every mouthful of lunch.
Making a good salad is something people undervalue. Anyone can put a piece of meat in the oven. But artfully mixing the tastes and textures and serving a stonker of a salad. Well, that really is a skill. Far too often I buy a bag of Tescos mixed leaves, and drizzle a bit of oil and vinegar over the top. What a sad, lazy salad. Shame on me.
But today I really was in the mood for something healthy and tasty and substantial. I went to my favourite veg stall on Bethnal Green Road (which I have been meaning to post about for an age - it's just insane). I bought a single carrot and a single beetroot, and then three mackerel for £2.13 at Tescos - not bad, eh?
If this weather continues, and you fancy a healthy pick-me-up, then I couldn't recommend this recipe more.
Recipe
Serves 1
1 carrot, grated
1 beetroot (cooked), grated  
1 smoked mackerel with crushed peppercorns, skin peeled off
Optional garnish: fresh coriander, sesame seeds
1/2 lemon, juiced
1 tbsp tahini paste
1/2 tsp smoked paprika
1 garlic clove, crushed
1 pinch of sea salt
Optional: splash of water to loosen, if needed
1. Break up the mackerel into chunks. Put in a mixing bowl with the carrot and beetroot
2. Mix together the lemon, tahini, paprika, garlic and sea salt. Tip the dressing over the vegetables.
3. Use your hands to gently toss the salad. Garnish with a little coriander, sesame seeds, and a drizzle of any dressing leftover in the jug.