Korean Feast at The Dock Kitchen
I've lived in London for four years, and throughout those four years I've loudly professed my love for Regent's Canal. But I have a confession. Not once have I visited Little Venice - the jewel in the crown of London's favourite waterway.
I spend happy weekends tramping up and down the stretch between Victoria Park and Wenlock Basin. "Why would anyone want to be anywhere else?" I ask - as I gaze through my rose-tinted spectacles at the moth-hole cardigans for sale at Frock's Afloat and the floating mass of beer cans left from Canalival. A rogue staffie cocks its leg against a parked-up widebeam, a cyclist grinds his tyre up against a couple's calves, and a coffee cup is chucked into the littered towpath verge.
The thing is, I have this inkling that my fear of venturing further west stems from the fact I know it's probably quite lovely. Maida Vale: the forbidden fruit of Regent's Canal. One bite, and I mightn't be able to go back to my naked, base East End ways.
A couple of weeks ago though, I received a lovely invitation to go and try Stevie Parle's new Korean menu at Dock Kitchen, and I knew the time had come. So last night I hopped on the Overground, and arrived at Kensal Rise. Dock Kitchen is just a short walk from the station, next to the Innocence Head Quarters. It was dark when I got there, but the lights were still on in the Innocence office. A beaming beacon of sophistication - the vast glass windows framing lines of white Eames DAW chairs. A far cry from the boarded-up eel warehouses which back onto the Canal in E2.
Dock Kitchen itself is a beautiful building. Smaller than I'd imagined, but with a semi-private room at the back seating 28, and a downstairs bar. It feels part restaurant, part work canteen. A stripped-back design with exposed brickwork, exposed girders, exposed wood roof and an open kitchen.
Dock Kitchen changes its menu every three weeks, skipping from Turkish to Sri Lankan to Catalan-themed meals. There's a little more fanfare about Stevie's new Korean menu though. Firstly because Korean is the Midas of cuisines at the moment, with Korean supperclubs, street vans and restaurants reaping the rewards of serving such on-trend food. Secondly, because Stevie is just back from a research trip to Korea.
Yes - that's right - he's been up in the Korean hills, cooking with monks. As if three books, two children and one restaurant at the age of 28 wasn't quite enough, Stevie's "work trips" put everyone to shame. While we're getting excited about the annual jaunt to All Star Lanes, Stevie is on his way to Seoul to learn about Korean street food, monastery food, family food…it could get annoying, only he is exceptionally lovely on top of it all. Dock Kitchen has the feel of a happy kitchen, with happy staff. His is the soft face of a nurturing chef - without a single Ramsay-esque furrow of anger etched into it.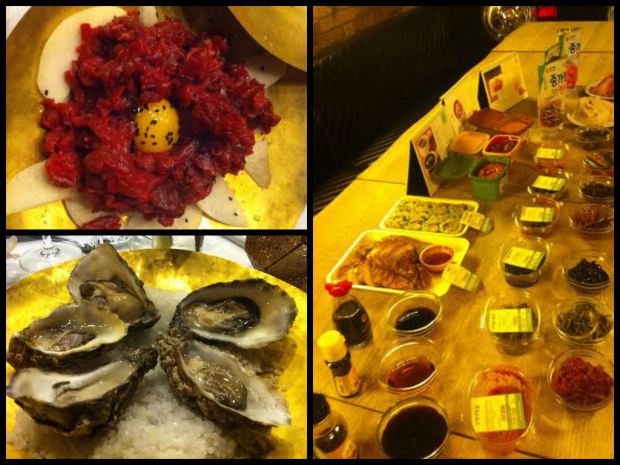 Anyway, onto the food. The evening started with a Soju Sohi. Did you know that Soju is the top-selling alcohol in the world? Well, I didn't until last night, and I'm still a little surprised. It's Korea's national spirit - and Korea isn't huge. But the grain-distilled spirit is pretty popular in East Asia, and it's gradually making its way over here too. The current trend of 'izakaya' Japanese-pub style dining is certainly helping raise its profile in London.
The meal started with a Korean-style tartar - possibly my favourite dish of the night. A hint of sesame oil gave it a beautifully nutty edge without being overwhelming. The thickly-minced beef felt wonderfully decedent, and the raw egg nestled in the centre gave sticky richness to each mouthful. The tartar was accompanied with a seaweed salad and also fried rice cakes - which had allegedly been exploding in the kitchen as the chefs attempted to deep-fry them.
Next up was sea urchin. My first ever sea urchin - and not just any sea urchin - but one foraged by Roderick Sloan himself. I was lucky enough to hear Roderick speak at MAD Food Symposium 2012, and he is an utterly inspiring man. "A lone wolf". A Scott who fell in love, and moved to the northern Coast of Norway, where he battles the elements on a daily basis to collect the world's best sea urchins, served everywhere from Noma to St. John.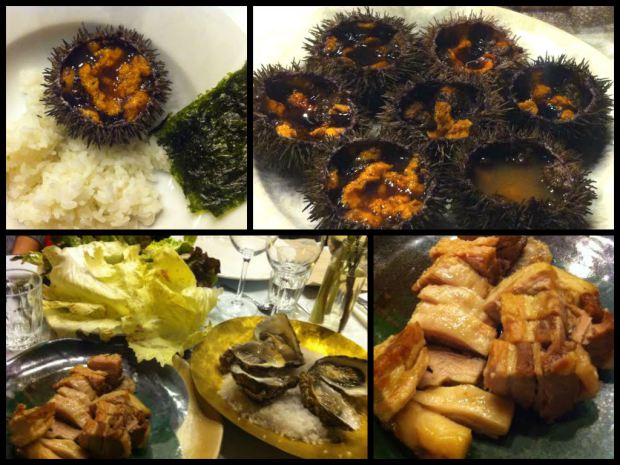 Given this high-falutin introduction, I feel just dreadful admitting that they weren't really up my street. Stevie explained that they urchins were "raw, not quite alive, but nearly." They were cut in half, and served with a little soy. The idea was that the content of the sea urchin was poured over a mound of sticky rice, and then wrapped in sheets of nori seaweed, like DIY sushi. The flesh was mussel-orange, with the consistency of a very loose oyster. Challenging stuff. To be honest, there wasn't a very distinctive taste, but a slightly gritty texture. I did eat it all, so perhaps I'm describing the dish a little unfairly. But I won't be rushing back to sea urchins in the future.
The meal continued with sharing dishes of beautifully grilled onglet, succulent steamed pork belly and big, meaty oysters. There was fermented squid which tasted like juicy thick kimchi, fried anchovies, saamjang and a stunning selection of leaves to wrap up everything in parcel-form.
The meal wound down with yuzu ice cream and black sesame brittle, which I was particularly delighted by-  as it featured actual yuzu rind. I recently wrote about yuzu for The Telegraph. I spent a week trying to track down a fresh yuzu, but my hunt was - quite literally - fruitless. Just impossible. So serious kudos Stevie for tracking the little blighter down. I would love to know where on earth he found it. My only conclusion is that it was smuggled back from Seoul in hand luggage…
The string of little dishes ended with a hot glass of date-like jujube tea. It was such cleverly conceived menu, full of fascinating ingredients and dishes. I really would recommend Dock Kitchen to anyone. Incidentally, I dropped by their website, and saw that they do a Monday night special of three courses plus a glass of wine for £24.50, which is brilliant for anyone looking to lengthen the weekend.
All in all though, the Korean menu confirmed my love for Stevie's recipes. and it confirmed my love for Korean cuisine. And, as I got a lift back through the winding streets round Little Venice, it also confirmed my fears that I have indeed fallen in love with the west end of Regent's Canal too.
Dock Kitchen
Portobello Docks,
342-344 Ladbroke Grove,
London
W10 5BU
020 8962 1610

** I was invited to this as a guest, but I really wouldn't write about it unless I'd recommend it to a friend - which I certainly would.