Reining it in with a Dal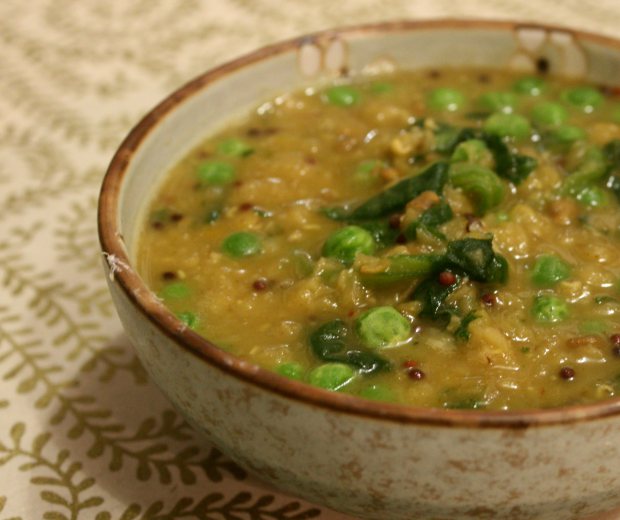 Those of you kind enough to drop by on a regular basis will know that we've fallen into the habit of eating vegetable dal on Sunday evenings.
It's a healthy way to wind down the weekend. If we have wrinkly old vegetables, it's a good way to use them up. And if - like tonight - we don't have much at all in the fridge, then a daal can be magicked up out of surprisingly few ingredients. I always have frozen peas and frozen spinach - so this dish is a homage to Sunday Trading Hours, when the supermarket is shut and I turn to dried or frozen food instead.
Just a short note on cooking dal. As you can tell from my courgette and turmeric dal recipe, I used to cook dals like a risotto -  cooking the dried lentils for a minute or so, and then adding the stock to a hot pan little by little. I've recently changed my tactic though, and taken to cooking dal more like porridge - pouring in the stock all at once, and then letting it bubble away on a medium heat until the lentils have all swelled up and absorbed the delicious flavour of the masala. How do you cook yours?
 Pea and Spinach Dal
1 tbsp unrefined coconut oil
3 cloves garlic, crushed
1 tbsp mustard seeds
1 tsp fenugreek
1 tsp coriander, ground
1 tsp cumin, ground
1/2 red chilli, crushed
150g red lentils, rinsed
1 litre chicken stock
frozen peas
frozen full leaf spinach
1. Gently heat the unrefined coconut oil in a pan, and then cook the garlic in it.
2. Add the mustard seeds, fenugreek, cumin, coriander and chillies, and cook on a medium-low heat for 1-2 more minutes.
3. Add the lentils to the pan, and then pour in all the chicken stock in one go.
4. Allow the lentils to gently simmer for 20 minutes - stirring occasionally.
5. Five minutes before serving, add the frozen peas and spinach - making sure that they have enough time to defrost fully. Serve with a squeeze of lemon juice.
For more posts to help you Rein It In, check out:
Caponata: a potato substitute
Oven-Roasted Aubergine with Chickpeas
Celery, Raisin & Mackerel Salad
Quinoa Salad with Broccoli & Beetroot
Quick & Easy Kedgeree
Pearl Barley Soup