Reining it in with a Caponata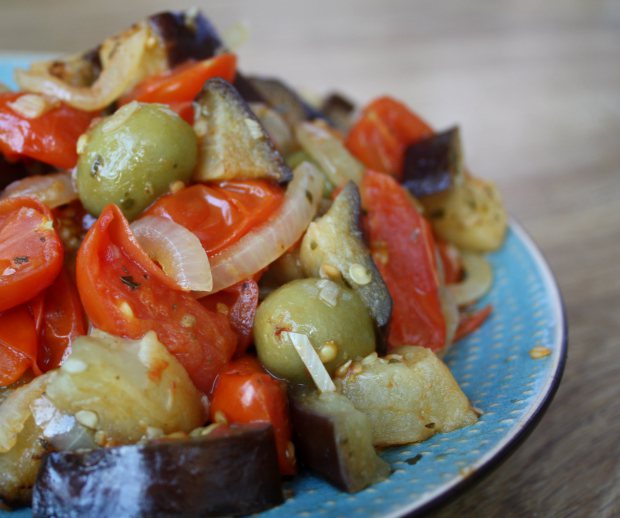 When cooking a piece of meat or fish, it's second nature to reach for the potatoes as an accompaniment. Don't get me wrong, I love potatoes as much as the next person. But seeing as I'm reining it in, I thought it was a good time to share one of my favourite potato-substitutions: a caponata.
A caponata is Sicilian dish. It's sort of warm salad, starring the island's favourite ingredient - the aubergine. I think it's much easier to introduce big flavours to a warm salad than a cold one. Firstly, the heat changes the flavour - a cooked tomato has far stronger, more rounded flavour than one straight from the fridge. Secondly, all the individual flavours have time to simmer down and fuse together to make a more complete (and, in my humble opinion, a more tasty) dish.
I recently did a cooking job for somebody who wouldn't eat any vegetables except for roast potatoes - and it was tricky. I didn't realise how limiting it would be. By the end of the month, I was well and truly fed up of putting pan-fried meat on a plate next to a pile of roasties. I was craving the colour and flavours of a caponata or a ratatouille, a vegetable daal, slow braised cabbage or a bowl of greens.
So in keeping with my 'reining it in' diet, this caponata celebrates a move away from potato. It is filling and delicious, and it doesn't scrimp on flavour. I had this with a small piece of steamed, white fish. How did you eat yours?
Aubergine Caponata
Serves 2
1 tablespoon of oil
1/2 aubergine, chopped
1/2 onion, sliced
1 large garlic clove, crushed
1 tablespoon red wine vinegar
12 baby plum tomatoes, halved
1 teaspoon dried oregano
A few caperberries and/or olives
1. Heat the oil in a pan, and add the aubergine chunks. Cook for 3-4 minutes until they start to colour. It's tempting to keep on feeding them with oil, and cook them for much longer - but seeing as I'm 'reining it in', I just used a little oil to colour them at the beginning of the recipe.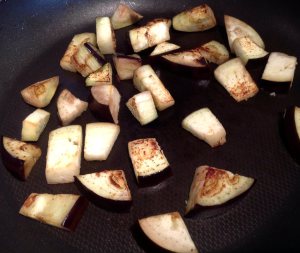 2. Add the onion and garlic to the pan, and cook for a couple of minutes. The lack of oil will most likely mean that they'll start to stick a little to the pan now. So what I did was add the red wine vinegar, and a splash of  water. I then chucked in the tomatoes and oregano. I turned down the heat, and put a lid on the pan - so that everything started to steam, rather than dry-fry. Leave this for 10-15 minutes. At the end of cooking, if the stew is looking a bit too-moist (the vegetables will seep out their own water), then cook the caponata for a couple of minutes with the lid off, so the excess moisture evaporates off.
3. Add the capers and olives. Season with salt, pepper and a splash more vinegar if needed, and perhaps a bit of lemon zest if you fancy. The caponata is delicious served alongside a nice piece of white fish, steak, game - or atop a small mound of couscous. It can be refrigerated and reheated - indeed the flavours of a slow cooked veggie dish like this often improve with a day or two of fridge time!
For more posts to help you Rein It In, check out:
Oven-Roasted Aubergine with Chickpeas
Celery, Raisin & Mackerel Salad
Quinoa Salad with Broccoli & Beetroot
Quick & Easy Kedgeree
Pearl Barley Soup