Reining It In With Chicken Soup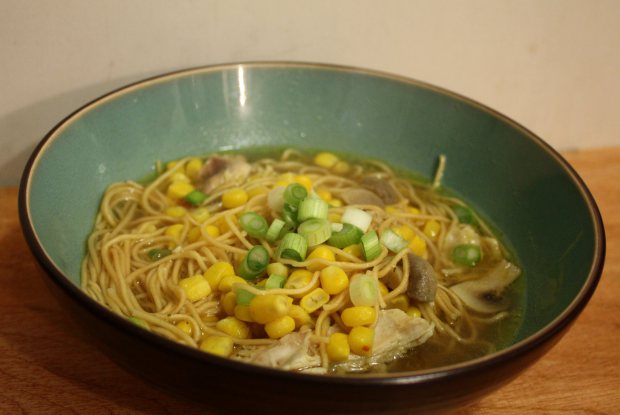 As far as 'reining it in' goes, I'm sure I could have done a bit better with this recipe. Chicken thigh could have been substituted for chicken breast. And instead of noodles, I could have used thinly-sliced cabbage, or grated butternut squash - a bit like Jamie does in his laksa recipe.
But hell, it's better than pizza or lasagne.
Chicken soup exists in some shape or form in most world cuisines. From a traditional 'Jewish Penicillin' with big ol' matzo balls floating to the surface, to a puritanical Greek Avgolemono , there are countless versions - all delicious in their own right. Some go for a clear broth, some add a slosh of cream. Some go big on vegetables, while others have none. Some focus on the chickeny flavours, while others mix in herbs and spices.
This recipe uses Chinese flavours. Mushrooms for savoury umami-ness, a little salty soy, and a kick from the chilli and ginger. It's a nice recipe to make of an evening - not only because of its taste, but also because it fills the flat with delicious, chickeny aromas.
Chicken and Sweetcorn Broth Recipe
Serves 4
1 litre of chicken stock
2 cloves of garlic, crushed
2 fresh chillies, seeded & sliced
1 small knob of fresh ginger, grated
3 chicken thighs/legs
150g mushrooms, sliced
200g noodles
2 x 198g tinned sweetcorn
soy sauce (to taste - roughly 2 tbsp)
3 spring onions, sliced
1. Bring the chicken stock to a rolling simmer in a big old pan (or - as we did - simmer a litre of water and add a couple of chicken stock cubes!)
2. Add the garlic, chillies and ginger to the chicken stock.
3. Next, put the chicken in the pan - making sure it's fully submerged. Put the lid on, and poach for  25-30 minutes. This is quite cunning really, because by cooking the chicken pieces in the stock, you're turning it into a super-stock, enhancing the flavours and making it extra-delicious.
4. Take out the chicken, and use two forks to shred it off the bone. This is a good point to just double check that it's all nicely cooked through. Return the chicken (but not the bones!) to the stock.
5. Add the mushrooms to the stock, and then the noodles - cooking as per instructions (ours just needed 3 minutes)
6. Finally, add then sweetcorn, and then the soy sauce. Start with a tablespoon or two. Taste, and then decide whether or not to add any more.
7. Divide between four bowls, and garnish with thinly-sliced spring onions
For more posts to help you Rein It In, check out:
Salmon Miso Broth
Pea and Spinach Dal
Caponata: a potato substitute
Oven-Roasted Aubergine with Chickpeas
Celery, Raisin & Mackerel Salad
Quinoa Salad with Broccoli & Beetroot
Quick & Easy Kedgeree
Pearl Barley Soup