Le Lapin Rouge: A popup with panache
I've said it before, I'll say it again. London's supper club scene sometimes makes me sad.
Too many friends have acted on Time Out's recommendation to spend £38 at Underground Dining - where you pay a premium for the pleasure of eating on a disused tube carriage. Booze isn't included in the price, and it's not BYOB. So once you're there, the cost of a meal rockets to nearer £60.
"Was the any food good?" I ask.
"Meh…"
"Would you go again?"
"It's a bit of a gimmick."
Friends have been to CUTS - the Ginger Pig's supper club which is £40, not including wine. Kitchen Theory's Kaeseki 'experimental dinner' is £55, no booze. The Dine Mile High has been a sell out, despite tickets costing £65. And at the end of this month, there is a Foodcycle charity event - a 'Mardi Gras Feast' - where a single ticket costs £185 (tables of 8 at £1,236). It's a great cause, it's a brilliant chef line-up, and I'm sure the food will be amazing. But £185, really? 
Supper clubs started out as a way for chefs to try out new dishes. For cooks to afford something a 'little bit special' thanks to everyone chipping in. And for diners, who were prepared to compromise on location, to be rewarded with less-than-restaurant prices.
But supper clubs have been hijacked and commercialised. Brands see them as a cunning marketing tool and bars hit unsuspecting diners with big mark-ups.
As soon as you start going northwards of £35 with a supper club, it's worth breaking things down. It's the restaurant equivalent of a £18 main course, a £9.50 starter and a £7.50 pudding. And there are some great London restaurants will guarantee great food at those prices. But there are a surprising number of people who happily make hefty Grub Club transactions (and I'm talking £50+), cross their fingers and hope for the best.
Bring on an antidote. Bring on Tish Clark.
Now, Tish is the most elusive person I know. She exists in a world of soft jazz, red wine and artwork. I know that she has done placements at some top London restaurants, and I think that she may have also worked in publishing for a while. But, like I say, it's hard to pin her down.
So joy of all joys when I got a message about a pop-up restaurant that she was trialling in the crypt under St Peter's Church in north-east London' s de Beauvoir Square. "Food will be as Elizabeth David would have had it: French, plenty of fat, no frills. Wine from France, art from Hackney, rabbits from Oxfordshire, fire dancing from Cape Town, sultry Jazz from Edmund, Edith Piaf from a shoddy old record player. Plus a stiff coffee from Nude Espresso to send you on your way home."
All for £30 - including a bottle of red wine per person.
As we arrived, thickly-spread, rich pate on toast was being handed round by a group of exceedingly kind 'waiters', who all bore more than a little family resemblance to Tish, and had been willingly drafted in for the evening.
Tish looked completely relaxed as the room filled with the 30-or-so diners. As elegant as ever in a lace and cream silk blouse under her apron. She was sipping a glass of red, and had the air of  one of Manet's woman - who had escaped from behind the bar back, put on a splash of red lipstick, and casually whisked up dinner.
The meal started with a traditional French onion soup. The onions were sweet and caramelised - and the sauce had that perfect meaty-boozy balance. The broth had soaked the slice of chewy baguette slowly sinking in middle of the bowl. Oh, how that sodden 'crouton' topped with melted cheese made a happy, happy mouthful. The sort of mouthful which makes you wonder why you ever faff around with things like 'Thai noodles' when real, deep contentment lies in a bowl of onion soup.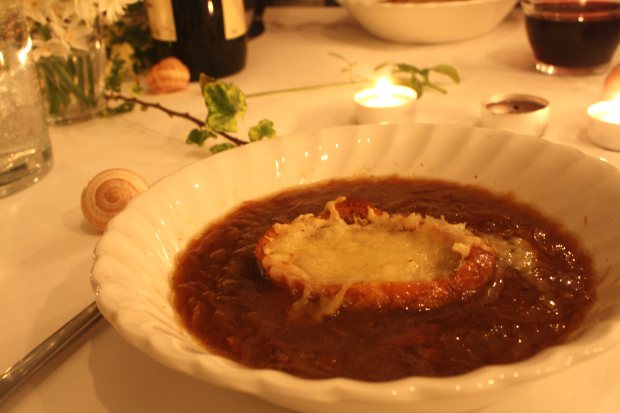 Next up was 'lapin au moutard'. Two slow-cooked legs in a light mustard sauce. Generous bowlfuls of kale and gratin dauphinoise circulated, with a literal shovel to ensure that diners could scoop ample portions of creamy potato onto their plates. Again, the rabbit wasn't over-complicated. Simple ingredients cooked so beautifully and whisked out of the little kitchen with consummate ease.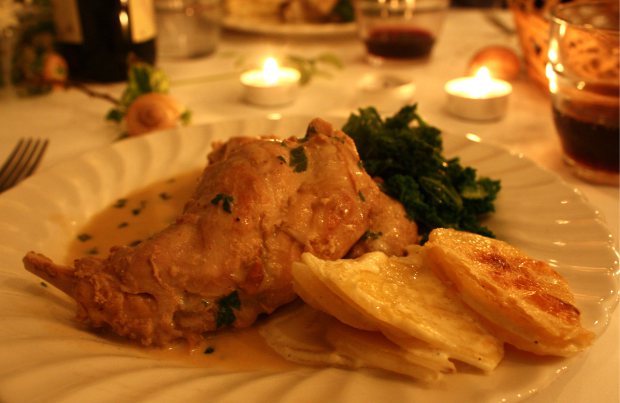 A big bowl of chicory leaves circulated as a 'palette cleanser'. They were dressed with a thick, salted sauce which balanced the bitter leaves. I am a sucker for anything whatsoever containing chicory or radicchio leaves - so am completely biased when I say that it was a brilliant interval.
A 'palette cleansing' course can be a fussy little thing when it involves fresh bowls of just-frozen granita, savoury sorbets and gazpacho. But this course followed the French-style of dumping a pile of leaves on the plate we ate main course from, meaning that the dressed chicory leaves enhanced with the leftover mustard sauce and rabbit, mopped up from the plate.
Pudding was a sharing event. Tom has got a lot better at sharing of late. Something I'd taken for granted until I looked across the table to see our friend's appalling attempt - Andrew had scooped half of the crème brûlée from the tea cup, hacked the slice of tarte Tatin in half, and put them on separate plates. One for him, one for his girlfriend. Not that I'm entirely surprised. The pear Tatin was syrupy-sweet, and then crème brûlée was unapologetically rich and French and creamy and delicious. Both really quite hard to share.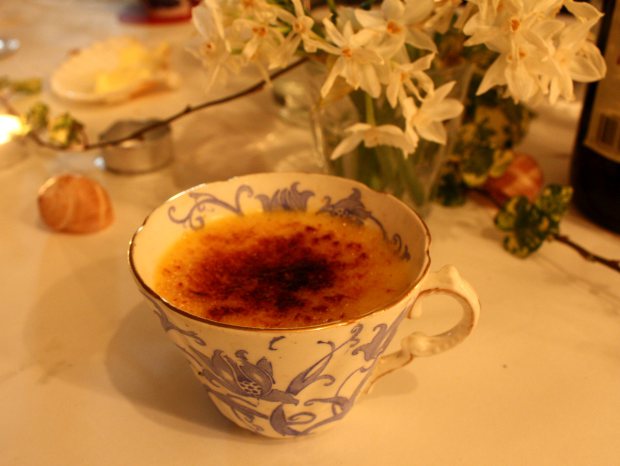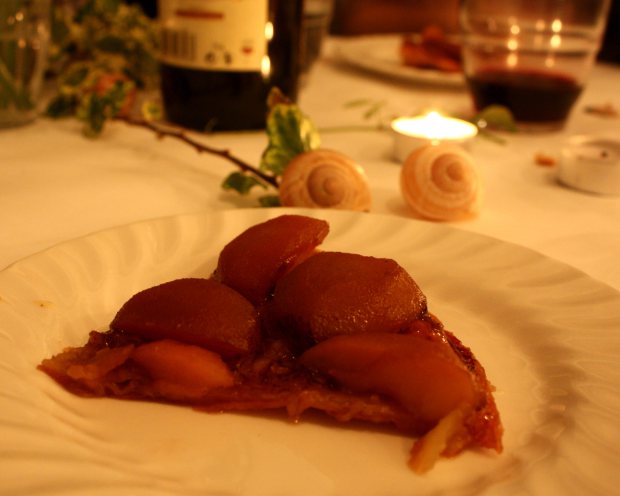 In keeping with the generous nature of the meal, each diner was given a rabbit-shaped tuille, and a rabbit shaped truffle. Then enormous wheels of brie and slabs of roquefort moved up and down the trestle tables. The meal rounded off with a filter coffee from the guys at Nude. Not just any coffee, but a delicious blend, roasted a couple of miles down the road off Brick Lane.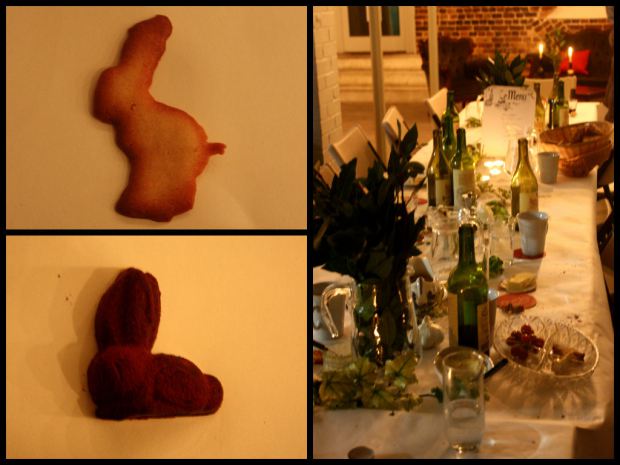 Just a final note on the atmosphere of the evening. When launching a supper club, 'atmosphere' must be the trickiest thing to control. Because 'atmosphere' is an intangible, uncontrollable kind of thing. There were a few quite brilliant things that Tish did though: firstly, providing each guest with a bottle of red certainly has a lubricating effect. More than that though, it means that alcohol doesn't become 'a thing', and that the meal isn't interrupted with trips to a bar, or that 'should we order another bottle?' conversation.
Secondly, there was a happy, collective kind of feel. Tish's friends exhibited their paintings on the wall, played the piano throughout supper and even put on a fire-lit poi ball display after the meal. Tish's brothers and brothers' girlfriends did front of house, and the night couldn't have been further away from the corporate-edged supper clubs which have started to creep into London's supper club scene.
Finally, the crypt was a great location. It was a little run down, with bare patches of unplastered wall, but it all added to the charm - with the lines of filament lights, and lilting jazz coming from a gramophone in the corner. There were two long lines of trestle tables, decorated with Tish's hand-drawn menus, and simple jars of bay leaves, butter served in scallop shells, night lights and 'escargots' decorating the tables.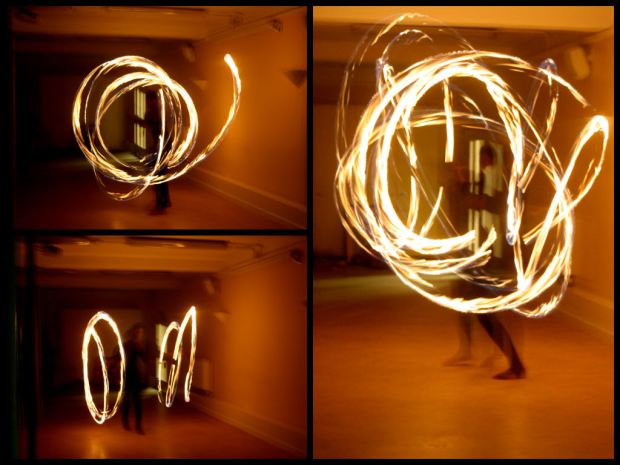 To sum up, the evening felt like a win-win situation, which is surely the perfect result for a supper club. The food was so clever and so fuss-free, I hope that Tish 'won' by making a little money out of the evening . And I certainly felt like we had 'won' - as we staggered home with our bellies full of so much delicious food, and our lips a becoming shade of purple - feeling able to relate even more to Elizabeth David's (whose book I am half way through) absolute adoration for simple French food. 
As I mentioned, Tish is an elusive lady. 
She has promised that there'll be another 'Le Lapin Rouge' - though there isn't currently a date, or a site to check. 
So I'll promise to put details of the next event up here and on Twitter when it's announced, for those who are interested.