One of the things about being a freelancer is that there's no Christmas party. Take note, I haven't specified whether or not it's a particularly good or bad thing. It's just a thing. I've never been a big fan of corporate entertainment - but then you sort of miss it when it's not there.
So last week I decided to throw my own work Christmas party. I bought a tree, put out the crackers, and invited some friends to disguise the obvious lack of colleagues. I went the whole hog, and thought that I'd write it up in a post - because as the big day is looming, it's always good to share tips. If you've got some to add, then I'd love it if you could leave them in the comments at the bottom.
Starter: Home smoked salmon on rye bread with creme fraiche, and red onion and cucumber pickle.
- Smoking your own salmon is obviously the smuggest of smug things to do. If you're interested (it's actually remarkably easy and cost-efficient) then click HERE. If you can't be bothered, then buying smoked salmon is wholly acceptable and very generous.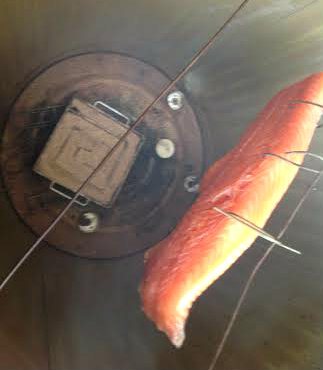 - Round Christmas, smoked salmon is often served on blinis. It's a classic. But once a pack of blinis have sat in the fridge for a couple of days, they can become a bit pappy and wet. Rye bread is an excellent alternative. It's so flavoursome, and robust enough to hold salmon…and if you have any leftover, then you can turn it into a Boxing Day bowl of ølebrød 
- I always serve this starter with creme fraiche, and a big pot of pickled red onion and cucumber on the table, so that everyone can help themselves. The pickle shouldn't be made more than a day or two in advance.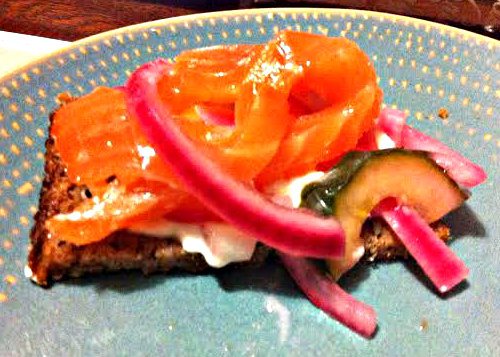 Main Course: The Full Works.
Turkey
A whole turkey is a faff to cook, as well as being pretty darned expensive. I am particularly biased, because I don't like the white meat anyway. So the most ingenious solution is Sainsbury's three packs of turkey thighs - just £10 for over 2kg of turkey. Bargain! All brown meat, so succulent, and so easy to cook. Just put them in the oven for an hour and baste them from time to time.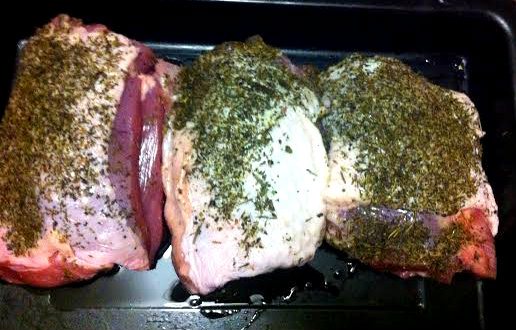 Braised Red Cabbage with Apples
Red cabbage is a great side dish. You can do it a day or two in advance - as with most slow braised dishes, the flavour can actually improve when reheated a couple of days after cooking. A single red cabbage easily stretches to feed 10 people, when bulked out with all these other joyous ingredient. This recipe is (roughly) how my mum makes it. So now it's how I make it too.
1 red cabbage, roughly sliced
2 onions, diced
2 cooking apples, diced
3 tablespoons of brown sugar
3 tablespoons of white vinegar
15g pepper
1-2 tablespoons of a homemade spice mix, made from a combination of grated nutmeg, ground cinnamon, ground cloves, salt and pepper
1. In a casserole dish, roughly layer cabbage, then apple, then onions sugar and spices until all the ingredients are used up.
2. Pour the vinegar over the top, and cut up the butter into little knobs to dot on the top.
3. Cook the cabbage at 150C for 2-2.5 hours, stirring a couple of times during cooking.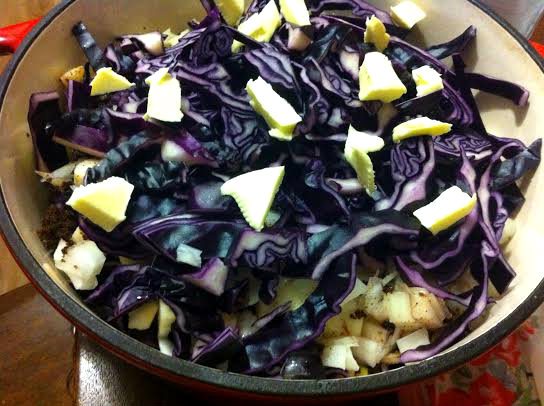 Brussels Sprouts with Pancetta and Chestnuts
From my experience, most people are reluctant to go big on Brussels…but if they're left off the Christmas menu, then there's quite the uproar.
Before everyone arrived I blanched the Brussels for 3-4 minutes in boiling water, and then plunged them into cold water to stop them cooking. After starter, I fried some pancetta, added 200g of pre-chopped chestnuts, and then put the Brussels in the pan.
The worst thing you can do to Brussels sprouts is overcook them. They go dark and bitter and soggy. As a result, mine were a little under done, oops. Patience is a virtue. If I were to do this recipe again, I think I would have cut them in half - that way there cooking time is likely to be more similar to the chestnut/pancetta cooking times. 

Roast Potatoes
I spent quite some time looking up the 'perfect roast potato' recipe, but they all involve goose fat, which is a bit of a swizz, because the goose fat alone costs more than double all the potatoes (if you get them from Bethnal Green market anyway!)
Goose fat is delicious, but not economical, so I went without. I cut my potatoes in half or a third. Then I put them in a saucepan of cold water, brought it up to the boil, and then let it simmer for five minutes before draining. I put the potatoes in a roasting tray with hot oil, and sprinkled a handful of semolina over them to encourage the crispiness.
My main roast potato tip is to leave plenty of time. I put them in at the same time as the turkey thighs. It's easy to keep already-crispy potatoes warm. But it's hard to accelerate the roasting of semi-cooked potatoes - particularly on Christmas Day when all the open and shutting of a full oven means that it struggles to keep at a roast-potato-hot-level as it is. 
Cheesy Leeks
The most important thing with cheesy leeks is not to scrimp. If you're making a medium-sized cheese sauce, you might as well make a large-sized cheese sauce. It's pretty much the same amount of effort. Leeks are cheap, and it's a good vegetable for bulking out a plate. Again, it can be made in advance, and then popped in the oven until it is bubbling around the sides.
8 leeks, sliced
50g butter
50g flour
750ml milk
150g cheese, grated (the stinkier the better & don't be afraid to add an extra handful for extra cheesiness)
1 tbsp mustard
1 tbsp lemon
pepper (salt not needed - cheese is salty)
1. Heat the butter, add the flour. Cook the roux until it turns a darker, straw-colour.
2. Add 50mls of the milk, and stir. Add another slosh, and stir until combined. Keep doing this slowly until you have a thick, glossy paste. Then you can whisk in the rest of the milk in slightly bigger batches.
3. Add the cheese, mustard, lemon and pepper, and stir on the heat for a couple more minutes, so that the cheese has a chance to melt into the sauce.
4. Blanche the leeks in boiling water for 2 minutes. Strain, and then run under a cold tap to stop them from cooking.
5. Now add the leeks to the cheese sauce, put in (an oven-proof) dish and either serve immediately or cool, and then reheat 20 minutes before serving.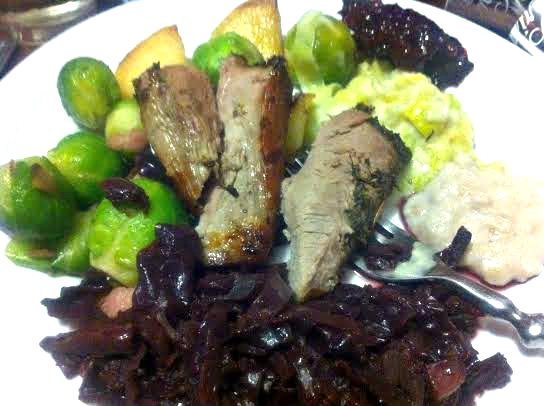 Bread Sauce
Whenever it comes to a classic, like bread sauce, Delia is the gal to turn to. I followed her recipe, available HERE.
Cranberry Sauce
I don't know if this is always the case (I suspect it might be) - but frozen cranberries were half the price of the fresh ones (£2/400g). I have no prejudices against buying frozen fruit, especially when using it in a jam or sauce, so that's what I did. I used half Billington's molasses sugar to introduce some dark, treacley flavours - as well as orange juice and zest for a Christmas twist.
Incidentally, the frozen cranberries seem to be sold in bigger pack sizes. This makes a monster amount of cranberry sauce, which is excellent news, because you can use up all the rest in my recipe for Leftover Cranberry Sauce and Apple Crumble. 
400g frozen cranberries
zest from 1 orange
juice from 1 orange (roughly 100ml)
75g Billington's molasses sugar
75g caster sugar
1/2 tsp cinnamon/nutmeg mixture (optional)
1. Put the frozen cranberries in a pan, and leave them on a kitchen work surface to defrost, this shouldn't take more than a couple of hours. (Note, you can cook them from frozen, but don't add the sugar until the cranberries have reached a squidgy stage, and you should extend the cooking time from 5 to 10 minutes.)
2. Add the zest, juice, spices, molasses and caster sugar to the pan. Stir over heat, and allow to bubble away for five minutes. As the sauce cools, it will thicken and develop a lovely, jammy sheen.
Pudding: Christmas Pudding Semifreddo and Pavlova
Christmas Pudding Semifreddo
Much like Brussels sprouts, the consensus on Christmas pudding seems to be that nobody likes it that much…but then become a little sad if it's excluded from the menu. I decided to create something which harnessed all the flavour of a Christmas pudding, but without the denseness of a pudding and heady brandy custard.
I was really, really delighted how this recipe turned out. It isn't hard to make, but it does involve lots of whisking in different bowls, which isn't great on the washing-up front. But in my humble opinion, the end result definitely make it worth the effort.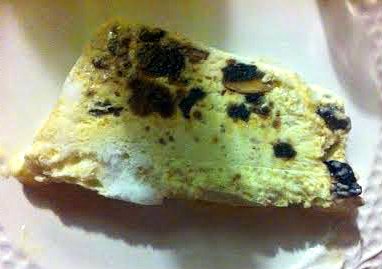 300ml double cream
150ml half-fat creme fraiche
4 egg whites
6 egg yolks
150ml caster sugar
200g shop-bought Christmas pudding (Sainsbury's hidden cherry Christmas pudding)
1. Cook the shop-bought Christmas pudding as per instructions. Mine required piercing the plastic lid, and putting in the microwave for 2 minutes. Lay out on a tray and crumble, to allow it to cool.
2. Whisk the cream, and stir in the creme fraiche. Put to one side.
3. In another bowl, whisk the egg whites to stiff peaks. Put to one side.
4. Now, whisk together the egg yolks and sugar, and then gently cook over a bain-marie for five minutes, until it is a thick and pale custard.
To do this, bring half a pan of water to a simmer. Now place the bowl of egg yolks and sugar on top. Stir, while it slowly-cooks from the gentle heat of the steam, rather than being in direct contact with any heat source.
5. Line a loaf tin with cling film, leaving plenty extra hanging over the edge, for leverage.
6. Fold the egg yolk custard in with the cream. Next fold in the egg whites. Finally add the Christmas pudding. Spoon into the loaf tin and freeze overnight.
7. To turn out, run the outside of the loaf tin under a hot tap for no more than 3-5 seconds. Turn it upside down onto a plate, and give it a little thwack. It should pop out easily. Unlike homemade ice cream, which can be very stubborn, semifreddo is quite easy to slice and generally better-behaved.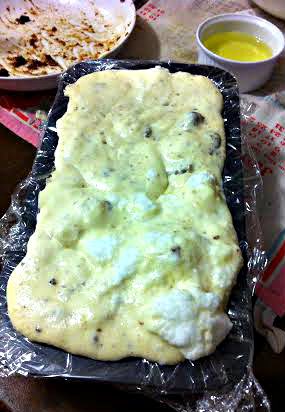 Pavlova
If, for the above recipe, you bought a 600ml tub of cream and a 300ml tub of creme fraiche, then you might notice that you have half of each left over - as well as two rogue egg whites. Do you need a better excuse to make a pavlova?
The frozen cranberries were also on a deal (£2.20 per bag of frozen fruit, or £4 for two) - so I put a bag of frozen summer fruits in the trolley, and went back home to make my pavlova.
2 egg whites
120ml caster sugar
1 tsp cornflour
1 tsp white wine vinegar
300ml cream
150ml half fat creme fraiche
400g frozen summer fruits
1. Whisk the egg whites to soft peaks. Now add the sugar, tablespoon by tablespoon. This may seem a bit of a chore, but it's important to add it slowly otherwise you might have some sort of collapse on your hands.
2. When the egg white is thick and stiff and glossy, add the cornflour and white wine vinegar. This is, incidentally, what transforms it from a plain meringue to a pavlova, with that delightfully chewy centre.
3. Spoon this onto a tray, lined with baking parchment or a silpat mat. Lots of people like to pipe a perfect circle. But it's just extra faff, and extra washing up. I like to keep things artistic, with a rough nest shape, dolloped on with a spoon, and roughly spread, with a kind of peaky-wave effect.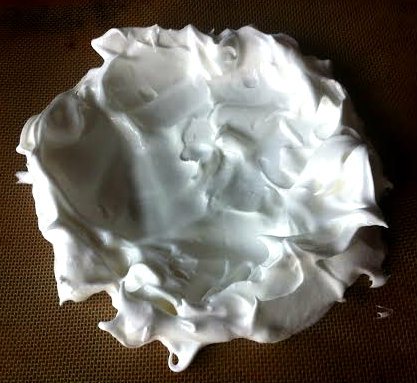 4. Cook at a very low heat (120C) for 1.5-2 hours. Even when you've turned the oven off, I'd leave the pavlova in there. A pavlova enjoys the environment of a cooling oven - the aim really is to dry it out rather than 'cook' it, so do take advantage of a cooling oven.
5. Before supper, whisk the cream, and add the creme fraiche. Make sure that your berries are fully-defrosted. But only stir them into the cream, and spoon into the pavlova nest at the last minute. Otherwise the dark fruit bleeds into the cream, and the cream makes the pavlova base soggy.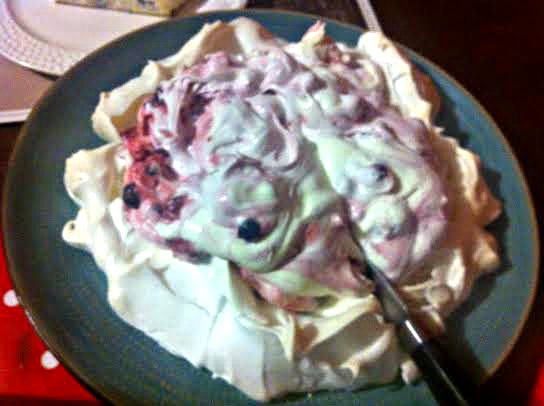 Do share your Christmas lunch traditions, and tips. I'm always interested.
Happy Christmas, and happy cooking!