Stewed Squid with Tomatoes
Click here for the recipe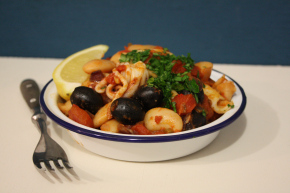 It's funny how memory works.
One of my earliest memories was of the Kibworth fish van. We lived on the corner of Main Street in a little house called the Old Bakehouse. And every Friday, a blue fish van pulled up in front of Granny Peg's across the road. She wasn't an actual Granny - but a nice old lady whose budgerigar loved cuttlefish. On the odd occasion that I went to the seaside (Leicester isn't really close), then I'd scour the beach for cuttlefish, and remember presenting them to Granny Peg with great pride.
The whole scene sounds so dated now. The idea of a man with a van full of fish, stopping on street corners so that people can dash out of their houses and buy some fish for Friday tea.
Since living in London, the spread of fishmongers has always puzzled me. There are a few very expensive fishmongers in nice, central postcodes: Steve Hatt near Angel, Copes on the Fulham Road, and The Chelsea Fishmonger - whose name says pretty much all you need to know.
Then there are densely-populated pockets of fishmongers. It's like when you're driving in a foreign country, thirsty and hungry, with no sustenance for miles and miles- and then you turn one corner and there are twelve melon-sellers crammed into one lay-by, jostling for custom. Brixton Market and Dalston Market are similar. If you chose to, you could spend hours trawling round London for a reasonably-priced fish, before rocking up in Brixton Market where there's such an abundance of fishmongers, they've beaten each other's prices down to five seabass for £10.
Anyway, all this is a roundabout way of expressing my utter joy and delight having fallen in love with Fin & Flounder. A new-ISH fishmongers about 15 minute's walk from me on Broadway Market. Ok, it's been there for a few years now, but I've only recently started shopping there regularly, and I'm smitten.
A few weeks ago, on an excitingly sunny evening with friends coming over, I decided to celebrate by making a paella. I went to Fin & Flounder for some massive prawns and squid (coming in at £12 to feed five which isn't terrible) - and joy of joys, they gave me a cod's head FOR FREE! I've pictured it with a 20p next to it, just to demonstrate what a whopper of a head it was (far bigger than mine). I boiled it up into a lovely fish stock, and used it to cook the rice in - far more delicious than a Knorr cube!
Lastnight, I decided to try out a new dish. Something I wouldn't usually cook. And after much deliberation, I went for Jamie's Quick Stewed Squid with Tomatoes - possibly as an excuse to visit Fin & Flounder again, and treat myself to some squid. Seeing as I already had a tin of tomatoes, a tin of butterbeans, garlic, a red onion, a chilli, lemon and (rather decadently) a tin of Olives From Spain languishing in my store cupboard, it left me with very little to buy. Although squid has a certain exoticness about it, I got two big'uns for £4, which didn't seem too extravagant considering the cheapness of all the other ingredients.
I'm not sure which of Jamie's cookbooks this came from (I found it in the seafood section of his site). But I'm surprised it wasn't in his 30 Minute Meals, because it was so quick and so very easy. Definitely one to remember and repeat - especially as you can make the entire sauce in advance, which leaves you to just add the butterbeans and cook the squid for a few minutes until it turns opaque. Perfect for a sunny evening - and a little taste of the Mediterranean in Bethnal Green.